Rocket League's first in-game event after it goes free-to-play tomorrow will be Llama-Rama, a crossover with Epic Games' Fortnite. Starting September 26 at 22:00 PDT (06:00 BST on September 27) players can begin working through the challenges to unlock Fortnite-themed accessories.
Unlike previous events, all the items from the Llama-Rama event will be completely free. Each Event Challenge unlocks a different item that can be claimed from the Challenges Menu. Players that complete all the objectives will unlock the latest Rocket League car, the Battle Bus from Fortnite. A Psyonix developer on Reddit has confirmed that the Battle Bus will use the new Merc hitbox that was added to the game last Thursday.
Fortnite players will also unlock Rocket League-themed items by grinding through the Llama-Rama challenges. Rocket League players will have to remember to claim these items, whereas Fortnite players should receive them automatically. Those of you who have always wanted to represent Rocket League in Fortnite, you finally have the chance. You can get a glimpse of all the new items over on the Rocket League website.
CHALLENGE 1: LLAMAS, START YOUR ENGINES!
Rocket League Challenge: Play an Online Match in Any Playlist
Rocket League Reward: Llama Flyer Antenna
Fortnite Reward: Rocket League Spray
CHALLENGE 2 – FLAGGED FOR VICTORY
Rocket League Challenge: Win 1 Online Match in Casual with the Llama Antenna
Rocket League Reward: Top Llama Topper
Fortnite Reward: Holodata Drop Contrail
CHALLENGE 3 – TOP OF THE WORLD
Rocket League Challenge: Get 5 goals, saves, or assists with the Llama Topper
Rocket League Reward: Loot Llama Octane Decal
Fortnite Reward: Rocket Groove Music Track
CHALLENGE 4 – AN EPIC ENDEAVOR
Rocket League Challenge: Win 5 Online Matches in Any Playlist with the Llama Decal (Octane)
Rocket League Reward: Llama Wheels
Fortnite Reward: Rocket League Emoticon
CHALLENGE 5 – LLAMA LEGEND
Rocket League Challenge: Get MVP in any Online Match with the Llama Wheels
Rocket League Reward: Battle Bus + Battle Balloon Antenna, Battle Bus Wheels, and Battle Bus Engine Audio
Fortnite Reward: Octane RL Backbling + style variant
The event is set to conclude on October 12, so you'll need to set plenty of time aside to unlock that sweet Battle Bus.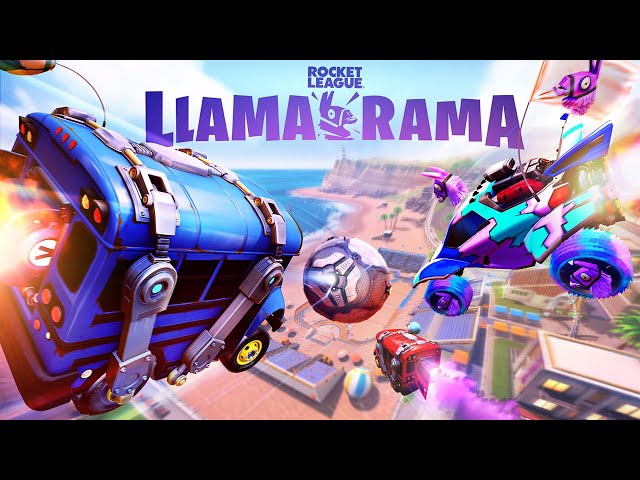 If you've only recently started playing Rocket League, you may want to check out our Rocket League best cars guide which goes into extensive detail on each vehicle.