Niclas 'Pengu' Mouritzen has announced his retirement from competitive Rainbow Six Siege after five years competing at the highest level in the esport. The former PENTA Sports and G2 Esports player has had an award-studded career, winning the Six Invitational with both teams in 2018 and 2019 respectively.
Pengu announced his departure from the scene with a video on the G2 Esports channel as well as talking about his decision on his own Twitch stream. He says that he was planning to step down after last year's European League finals but changed his plans after it was delayed due to the coronavirus pandemic. The Dane went on to win actually win that tournament with G2 earlier this year.
He also says he is gutted he won't be bowing out on a third Six Invitational victory. Pengu played in the charity Rainbow Six Memevitational tournament that replaced the Six Invitational this year, unfortunately losing in the semi-finals but helping raise over $10,000 for Direct Relief for COVID-19.
Pengu says on stream he has lived his "childhood dream," and his immediate future looks to be in content creation. "I have a lot of things I can do," he says.
"It's not that I don't want to play any more, I really do," he explains. "Who knows, maybe content creation sucks dick, maybe I don't like it, maybe I suck at it. Maybe I'll come back [to playing competitively], maybe I'll be a coach, I don't know."
"I've had a lot of offers and a lot of ideas thrown at me about the future," he says. "I'll be having meetings and considering my next steps and options."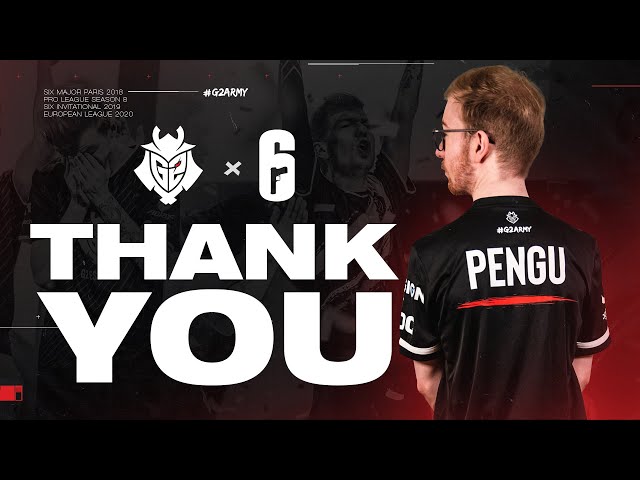 In the video posted by G2, Pengu again considers attending future Rainbow Six Siege Invitationals. "I would love to attend Invitationals," he says. "Whether it's as a fan, as a content creator, [or] as an analyst – whatever it might be, I want to be there."
The future of Siege esports looks like it will have less Pengu – although he never rules out a return to competition. However, the Rainbow Six legend will undoubtedly be a key player in the esport's future, whether as a creator, coach, or in any other role.