Operation Neon Dawn is the last major update to Rainbow Six Siege for 2020. It doesn't quite have the bumper selection of features that Shadow Legacy had, but it does introduce us to a new operator, the delayed rework of Skyscraper, some balancing and system changes, and a new charity initiative.
While we were meant to get Skyscraper in Shadow Legacy, it was pushed back in part due to the pandemic, but thankfully that's given Ubisoft time to fully work out exactly what it wants to change and what it wants to keep intact. There's also now a roof over the dragon's head, which is quite nice.
As always, new stuff will always be the part of the update that gets the most attention, and new operator Aruni looks to give the defenders some extra firepower and useful defensive options. She's the first defender with a DMR, and her gadget looks to shake things up a fair bit. So with all that in mind, let's break down what is coming in the Operation Neon Dawn update.
Rainbow Six Siege Operation Neon Dawn release date
There's been no official date announced, but you should expect the Neon Dawn release date to be December 8, 2020. The operation is now available on the test server, and it takes roughly a month from the beginning of the test server status to hit the full release, hence the estimated date above.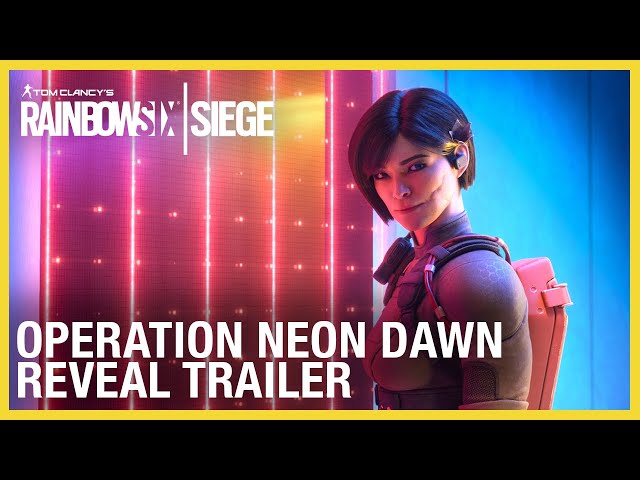 Rainbow Six Siege Operation Neon Dawn: New Operator, Aruni
The new operator is Apha 'Aruni' Tawanroong, a medium speed and medium armour defender. She's the first defender to get a DMR, wielding the same weapon as Dokkaebi – the MK14 EBR. She also gets the P10 Roni SMG, a weapon shared with fellow defender Mozzie, and the regular PRB 92, same as Capitão and Nomad. Her gadgets will include the Barbed Wire and Proximity Alarm.
Aruni is also the first operator featured in Rainbow Six Siege with clearly shown prosthetics. She lost both her left arm and left leg during a mission with Thermite, though she does not resent him for that, nor does she have hard-feelings towards him. Her prosthetics don't seem to hinder her speed or ability to punch holes through walls, making her more than capable of holding the fort.
Rainbow Six Siege Operation Neon Dawn new gadget
Aruni's unique gadget is the most fascinating new addition in Neon Dawn. The 'Surya Gates' are named after one of the four entry gates to the Jaisalmer Fort built in the 12th century in Jaisalmer India. These are a sort of barrier that covers doors, windows, hatches, and both reinforced and unreinforced walls. If she's still alive late-game, Aruni can move the Suyra Gates if needed, and has four of them given to her at the beginning of the round.
Whenever an enemy or drone walks through them, they will take damage (or be destroyed in the drone's case) and the gadget will go down. It takes a small amount of time to recover, but once recharged, any ally can shoot the device towards the upper part of the barrier to reactivate it.
There are some key things to bear in mind. Firstly, any defenders standing nearby the Suyra Gate will deactivate it, so this can give your position away to the enemy if you're standing right next to it. It also means that they won't take damage. Thrown gadgets like frag grenades will trip an activated Surya Gate, but not take damage.
Finally, while it does cover the hatches and windows, the Suyra Gate does not fully cover doorways or walls, so any drone that can roll underneath can still do so. It's a powerful looking defensive option and one that has the potential to be very problematic for the attacking team.
Rainbow Six Siege Operation Neon Dawn: Skyscraper Rework
The Skyscraper map is the latest to get a rework and at first it may not seem like much has changed. However, there are plenty of rooms that have entirely different layouts, more cover, and altered attacking points. We took a short look at a comparison slideshow which showed some of the big changes:
Attackers can now rappel onto the roof and use that as an entry point.
A section of one of the balconies on the second floor has now been removed, which was a hotspot for camping attackers.
Some entryways are now blocked.
The restaurant stairwell has now changed the angle it exits from at the ground floor.
The Dragon that was on the Restaurant Balcony is now inside rather than outside.
There is now a bridge between 2F House and 2F Restaurant.
Rainbow Six Siege Operation Neon Dawn: Operator rebalancing
Some big changes are coming to three of the agents that badly needed some updates. None of these are as extensive as the Tachanka rework, but some of the operators here did need some minor alterations to their gadgets:
Hibana
Beforehand, Hibana would always fire six shots from her X-Kairos Launcher, but only four of them are needed to destroy a hatch. The new patch will now give Hibana the ability to configure how many shots are fired at once: two, four, or six shots. This aims to give her a bit more flexibility.
Echo
The Yokai drone will now remain visible when placed on ceilings.This means that Echo players will now need to be a little more strategic when using the Yokai drone, learning optimal placements so that they can effectively use it to disrupt the enemy's plans.
Jäger
Jäger's ADS now has ten second cooldown. After intercepting enemy gadgets and explosives, it won't activate again until this ten second cooldown has expired. With this new cooldown restriction, the ADS now has infinite charges rather than just two.
Rainbow Six Siege Operation Neon Dawn system changes
There are also some significant system changes coming to Rainbow Six Siege, ranging from how gadgets work with other gadgets to the inclusion of new indicators and features.
Runout Timers: The time it takes to get spotted is down from two seconds to one second. There will now be a visible bar that shows you how close you are to being spotted, rather than just a timer.
No-Drop Zone: At the edge of bomb sites, there is now a 'no-drop zone' that prevents players from accidentally dropping the defuser. Since the animation for planting the defuser has been changed so that it is placed closer to your feet, this is to prevent the surrounding objects from blocking the defuser from being planted.
Related: Check out our guide to Rainbow Six Siege ranks.
Sticky Gadgets: These should now stick properly onto bulletproof gadgets, so the sticky grenades should now stick onto reinforced barriers and destroy them, rather than bounce off them.
Chat Accessibility: There are now options to toggle between Voice to Text and Text to Voice options for in-game chat. Chat assistance, including Narration and Hints are also being added to the options menu. The audio and visual cues for both chat and font scaling can be adjusted.
Operator Price Decrease: The following operators will now get a permanent price decrease: Vigil, Zofia, Dokkaebi, Nomad, Kaid, Wamai, and Kali. There will be no Elite skin coming with this season's launch.
Rainbow Six Siege Operation Neon Dawn Sixth Guardian
Ubisoft has also announced that a new charity program will begin from Operation Neon Dawn. The Sixth Guardian bundles, created by the MTX team, will offer cosmetic skins for your characters, with 100% of the profits going to the chosen charity.
While Ubisoft is not ready to announce which charity will benefit from the new program, the first bundle will be the Doc Sixth Guardian Bundle.
And that's everything that's coming to Rainbow Six Siege in the Operation Neon Dawn update. Aruni's unique gadget gives yet another reason for attackers to play cautiously, while at the same time giving us lots of extra tweaks to keep us all on our toes.