We know Sens' unique gadget is a lot of fun, but Ubisoft is really hitting a home run when it comes to the newest face in Rainbow Six Siege, Grim. Why do we think that? Well, not only does Grim look as sweet as honey and as rough as honeycomb, a hard thing to do, he's also going to come with a very unique gadget at his disposal: the bee-filled Kawan Hive Launcher. That's right, the Operation Brutal Swarm operator is going to be the bee's knees.
Okay, alright… We're sorry for all the bee-related puns, but the Rainbow Six Siege Y7S3 operator's unique gadget really does sound like an incredible bit of kit that's going to make any Defender's life a living nightmare – and that's not because you're going to be literally swarmed by micro-robots.
The Kawan Hive Launcher unique gadget is going to be a sting in the side for Defenders because it will offer Grim and his team live tracking data for a limited time. If you're caught in the swarm, the 'bee bots' will follow you and you'll be pinged repeatedly for a handful of seconds.
It might look like an outdated bit of kit, and there's a good reason for that, but it's packing some of the most advanced tracking technology available – in the Rainbow Six Siege universe. This is going to make Grim a fantastic, aggressive, intel gatherer for your team – and a deft hand at chasing down any roaming Defenders.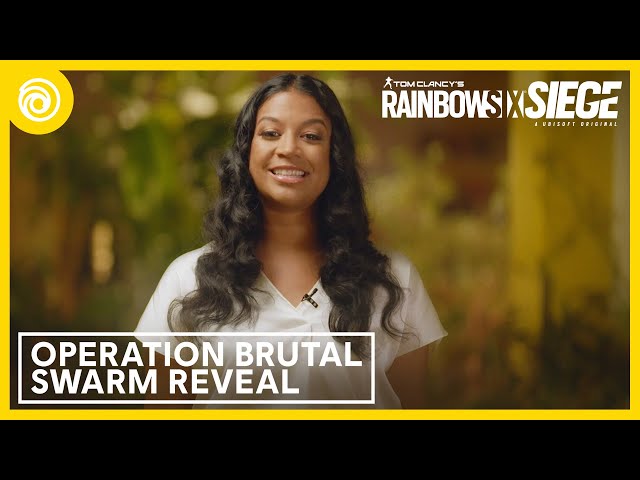 Discussing Grim's character design, and why his Kawan Hive Launcher might look a little outdated, concept artist Sunshine Kim explained that he's a bit of an outcast and someone that you might not associate with Team Night Haven at first glance. Kim goes on to add that the design team researched MMA fighters and athletes to inform Grim's 'battle-worn' look.
Adding to this, and touching more specifically on the design of his unique gadget, director of gameplay design Jérémie Carvin has explained that Ubisoft wanted to play with a mix between high-tech weaponry and older armaments. This led to the over-the-shoulder launcher we'll see Grim with come the Rainbow Six Siege Operation Brutal Swarm release date.
Is this gadget going to help you climb the Rainbow Six Siege ranks? We'd like to think so. The fact that he's a three-speed, one-health Attacker also lends itself well to him becoming one of the best Rainbow Six Siege operators for ranked play going forward. He is also one of the only three-speed operators to have a shotgun – which speaks for itself. Grim.