Riot Games has released its latest dev diary for its upcoming fighting game, showing off some more fast, fluid, and ferocious Project L gameplay.
In the dev diary we get to hear from game director Shaun Rivera about Project L's systems and mechanics, and we're also treated to both some brief and extended gameplay segments too.
Here Riot showcases the "quick and fluid" movement in Project L, which Rivera says will be one of the main ways for "player expression and mastery" in the fighting game. There are several movement commands in Project L, from walking, to chain dashing, to super jumps.
In terms of actual combat, offensive attacks look satisfying, varied, and at times pretty ferocious. To counter this, there is of course defensive actions like blocking, and Rivera says that there are also more "nuanced systems that reward you for reading your opponents next move".
That's all well and good, but what will really set Project L apart (and what was especially exciting to see in this dev diary) is its tag team system, which lets you have a primary "point" champion and a secondary "assist" champion. While your point will do most of the brawling, your assist champion can get involved in a number of ways.
Firstly there are your "bread and butter" Assist Actions, which are quick and helpful moves such as knock backs that can be performed even when your assist champion is off-screen. Every champion has two Assist Actions.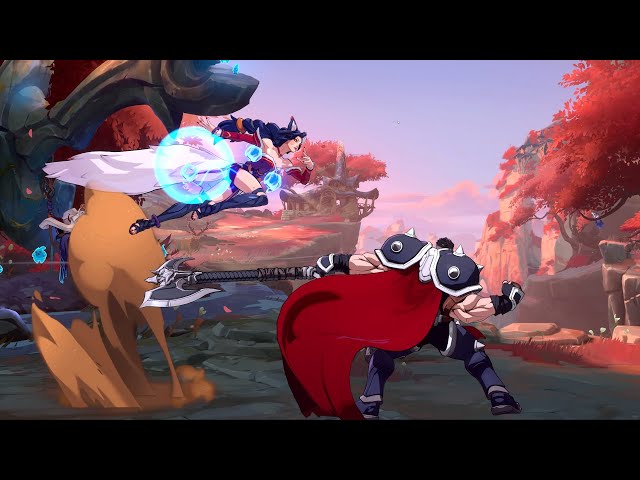 Then there's Handshake Tag, which lets you fully swap fighters to control your assist champion. This can only be performed when both of your fighters are appearing on your screen at the same time.
Lastly, there's Dynamic Save, a mechanic that lets your assist fighter swoop in to save the day and the Project L equivalent of a combo breaker. While this is a strong defensive move that can save your point champion, the tradeoff is that a poorly-timed or predictable Dynamic Save can be countered by your opponent.
Rivera does warn though that the names of these three tag team mechanics may change and aren't set in stone, but whatever they end up being called, they will be core pillars of Project L's tag team action.
Despite sounding like we're still a long way away from a Project L release date, this latest update and gameplay showcase is certainly an early Christmas present for fighting game fans. The game will also give fans of the League of Legends universe of Runeterra another free-to-play experience to play with its characters and in its distinctive settings.