Livestreamers Michael 'shroud' Grzesiek and Chris 'Sacriel' Ball have seen their fair share of ambitious games over the years, but now they're taking the leap into forging an experience of their own. A new collaboration is dawning with developer Splash Damage, with the studio and the streamers banding together for the development of Project Astrid, a brand open-world survival game.
According to an official statement, fans of the streamers can begin to keep their eye on the following game: "Splash Damage, developers of Transformers Reactive, Gears Tactics, and Outcasters, has announced that they will be partnering with creators Sacriel and shroud, to create an original IP in the AAA open-world survival title codenamed Project Astrid." Though any narrative specifics are still under wraps from the developer, the statement clarifies the nature of working with shroud and Sacriel respectively.
"Splash Damage will be leveraging the experience and knowledge of both Sacriel and shroud to create a game worthy of the genre and its fans," the developer clarifies. Through the development of Project Astrid "Sacriel and shroud will be taking on the roles of executive creators", as they translate their collective years of competitive play, game analysis, and streaming into valuable knowledge.
Judging by both shroud's comments on gunplay in the announcement video, and the two streamers' shared passion for games such as Escape From Tarkov and PUBG, Project Astrid appears almost certainly to be a shooter at its core, probably in first-person.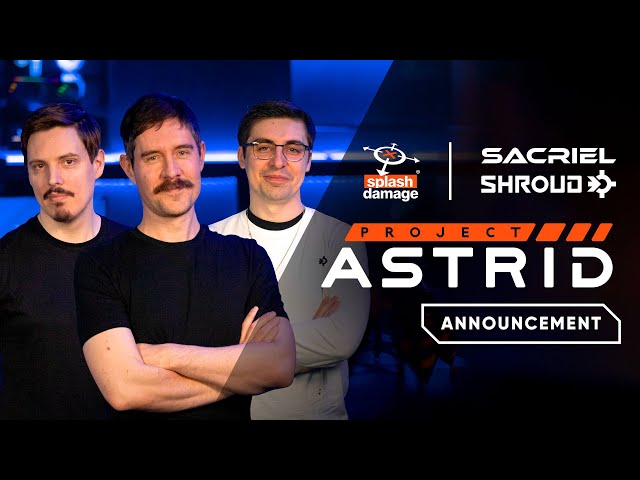 Project Astrid marks a special milestone for Splash Damage, as the game will be its first original IP, as opposed to working with established franchises. Speaking on the project's creation, Splash Damage CEO Richard Jolly expresses that "Splash Damage has been passionate about crafting unforgettable multiplayer experiences for over 20 years. Project Astrid is the culmination of this passion, born out of a partnership with two close friends, who also happen to be incredibly well-respected experts in our industry." Furthermore, Jolly says "we're excited to share something fresh with our fans, as we take a bold step forward and craft a game that's truly different from anything we've done before."
Twitch star and former CS:GO and Valorant professional player shroud also shares his excitement for Project Astrid: "This project means everything to me […] Chris and I have refined a vision for what's next in the survival genre and with Splash Damage we're setting out to build it. We want to build the best survival game ever, and with Sacriel's brain and Splash Damage's team, I know we can do it."
Additionally, streaming alum Sacriel notes that "this is a dream come true […] To be able to execute with a team as esteemed and experienced as Splash Damage is a privilege." Both streamers will discuss the game on their respective Twitch channels too, according to the developer.
Project Astrid has yet to iron out a release date, but until that day comes, don't forget to check out all the upcoming PS5 games for this year and beyond.