An incredibly rare Blastoise has sold at auction for $360,000 (around £264,080), making it the most expensive Pokémon card ever. The card easily beats the previous record, which was set in November 2020 when a Shadowless Base Set Charizard sold for $295,000.
It may seem strange that Blastoise would beat such an iconic card. After all, the Base Charizard is the original "shiny Charizard" that so many of us coveted on playgrounds when we were growing up. If only we'd known that a mint condition shiny would be able to buy us a house 25 years down the line.
But this isn't any ordinary Blastoise. This Blastoise is one of just two cards that Wizards of the Coast printed to pitch the trading card game to Nintendo: the Adam or Eve of Pokémon TCG. Arceus may have created all Pokémon, but this very Blastoise created the card game, making it one of the rarest Pokémon cards in existence.
The card was sold via Heritage Auctions, and graded by CGC at 8.5/10: Mint+ condition. CGC used advanced forensics and chemical analysis to verify the card is legitimate – a first for Pokémon cards. It also features a unique Galaxy Star holographic print and a typo on the move "Hydropump" which should read Hydro Pump.
You can watch the first nine minutes of the online auction here: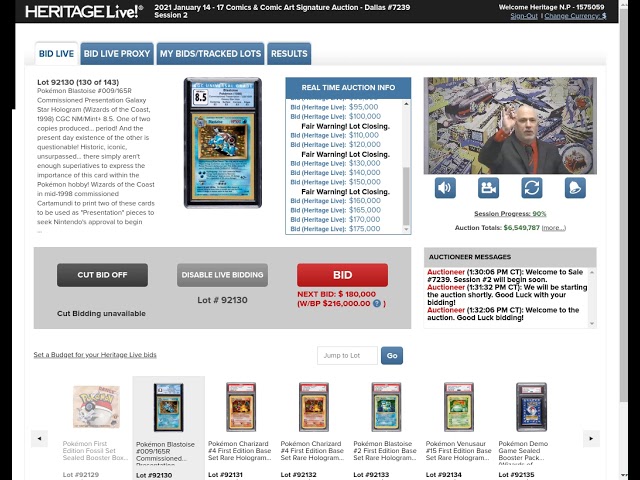 Many other Pokémon items were also sold in the auction, including a sealed First Edition Base booster box, which was bought for $408,000. The identity of both bidders is anonymous, but we wonder if rapper Logic is up to his old tricks after he bought a Charizard for $220,000 last year.
With the whereabouts of the other 'Presentation' card currently unknown and many – including auctioneers Heritage Auctions – question its present-day existence, this card is truly a piece of history and deserves the title of the most expensive Pokémon card ever sold at auction.
Although, with prices rising all the time, it's only a matter of time before the record is surpassed again.