Pokémon GO has come a long way since it was released in 2016. Developer Niantic has added friends, raids, trading, and a competitive battling system to name just a few of the major updates.
While many players are busy hunting for the best Pokémon in Pokémon GO to use in PvP battles or raids, others are content attending events like the Pokémon GO Tour: Kanto and engaging in the collecting and community aspects of the game. There's something for everyone.
However, Niantic has been working on something that definitely isn't for everyone – as Pokémon GO now looks playable on the HoloLens 2. Microsoft's mixed-reality glasses will set you back $3,500 (£3,349.19) – which is quite a chunk when you can play Pokémon GO on just about any mobile device – but if you have a pair knocking about, you can take Pokémon to the next level.
Many Pokémon fans are getting excited about the new Pokémon Legends Arceus game coming to Nintendo Switch in 2022 – the open-world RPG is already being heralded as the next evolution of Pokémon games and drawing comparisons to Breath of the Wild. However, if you want a truly innovative experience that's as close to the anime as possible, playing Pokémon GO with the HoloLens 2 looks like your best bet.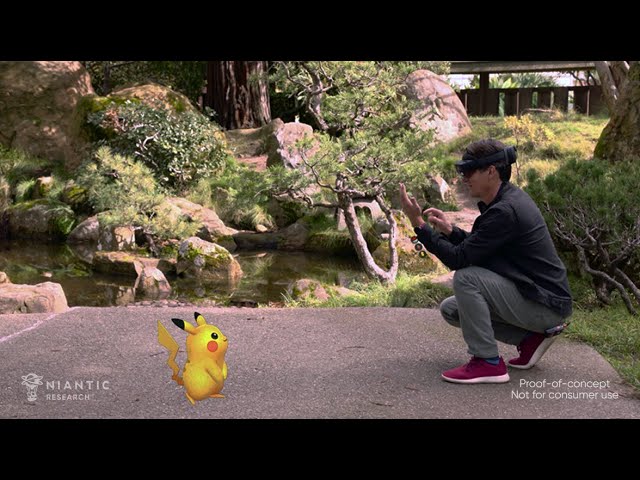 The trailer even teases AR PvP battles, which is incredibly exciting. However, Niantic CEO John Hanke explains that this tech isn't ready for consumers just yet. "While this demo is not intended for consumer use, it offers an early glimpse into the future evolutions in both software and hardware," he says John Hanke. "We've only scratched the surface. We know the years ahead to be filled with important achievements which will serve as waypoints in AR's journey to become a life-changing computing platform."
While fans may be disappointed at this news, it'll save you enough cash to go on a family holiday once the world opens up again so don't despair too much. In the meantime, we can still dream of a fully immersive Pokémon experience at an affordable price – but it might be a few years off yet.