League of Legends fans today bore witness to one of the greatest series in LoL Worlds history – a five-game, Worlds 2022 Quarterfinals banger between reigning LCK champion Gen.G and the region's third seed, DWG KIA. While Gen.G emerged the eventual winner with a 3-2 scoreline, it was not without its drama, as DWG KIA nearly completed a fairytale reverse sweep in New York.
Throughout the series, both teams demonstrated remarkable flexibility in the draft. DWG KIA midlaner Heo 'ShowMaker' Su, for example, piloted five different champions throughout – Lissandra, Azir, Swain, Leblanc, and Syndra. Meanwhile, his opposite number in Jeong 'Chovy' Ji-hoon pulled out Ryze – a champion we have only seen a handful of times during the backend of the competitive LoL season, and one that had yet to see the Worlds stage this year.
One of the more notable picks that slipped through the ban phase during the first two games was Yuumi. The magical cat has clawed her way to victory in all of her eight showings during the Worlds 2022 Main Stage, though, as ShowMaker tells The Loadout as part of an upcoming interview, this was no accident.
"Internally we had a lot of discussions regarding Yuumi," ShowMaker says, "but in the end the ultimate conclusion was to leave her open and try playing it out." Of course, the first two games ended in defeat, which ShowMaker says prompted the team to ban her for the remaining games.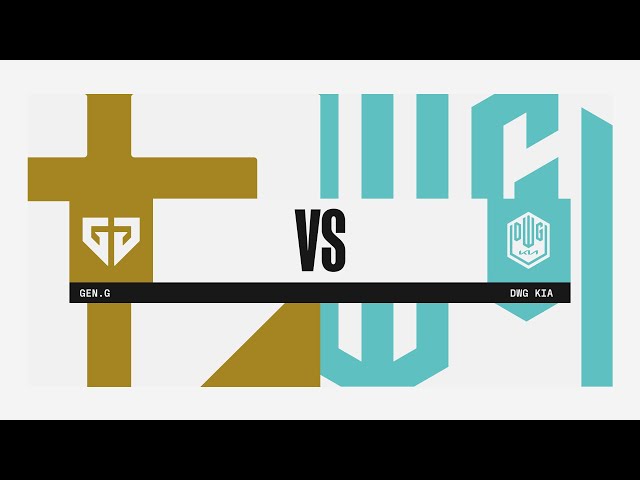 And what a few remaining games they were. Despite being at match point, Gen.G still had one last mountain to climb, and the wounded predator that was DWG KIA was not about to let its journey be an easy one. Standout performances from ShowMaker and Kim 'Canyon' Geon-bu helped bring the series to a game five.
During the final game, Gen.G assumed an early game lead. However, a miracle play from DWG KIA's mid-jungle duo – reminiscent of *that* SKT vs EDward Gaming wombo combo from Worlds 2017 – brought the team back into the game. However, in the end it wasn't enough, as both Chovy and Park 'Ruler' Jae-hyuk eviscerated DWG KIA in the final, game-ending fight
For Gen.G's Han 'Peanut' Wang-ho, the victory was extra sweet. Having been defeated by SKT T1 (now T1) at Madison Square Garden back in the 2016 Worlds Semifinals – itself one of pro League's most iconic series – the jungler was particularly keen to avoid defeat in the Big Apple for a second time. "I'm glad to have overcome my defeat in 2016 at MSG this time," he tweets. "Thank you for the support from then til now!"
Having secured its Semifinals spot, Gen.G is set to take on the winner of the final Quarterfinal, which pits reigning Wolrds champion EDG against LCK fourth seed DRX.