MAD Lions has had a cracking start to the League of Legends EMEA Championship 2023 Winter Split. The Spanish organisation ended the regular season in second place with a 7-2 record, securing an upper-bracket spot in the upcoming Group Stage.
Having been matched up with Astralis, G2 Esports, and Team BDS through random ballot for groups, MAD was afforded the opportunity to pick its poison from the two worst-performing teams to face off against in a best-of-three – MAD chose Astralis. Talking to The Loadout as part of an upcoming interview, head coach James 'Mac' MacCormack is confident MAD's group is going to make for a "really exciting" watch.
"I think there's probably going to be a lot of spicy games from this group," Mac says. "BDS has its wonky kind-of-niche picks that other teams don't, and it has a really specific style. G2 tends to have pretty exciting games, and Astralis has been bad in terms of results, but it's been very close to winning a lot of games."
While Astralis may on surface have been the simple choice of opponent considering its place in the LEC historically, Mac reckons things are much closer between it and BDS – which defeated MAD in Week Two – than meets the eye.
"That was actually a really tough decision," Mac notes. "I'm still not sure if we made the right decision, I guess we'll find out." Citing the explosiveness of players like Finn 'Finn' Wiestål, Doğukan '113' Balcı, and Lee 'JeongHoon' Jeong-hoon, mixed with Kasper 'Kobbe' Kobberup's veteran presence, Mac believes 2023's iteration of Astralis is "not to be underestimated."
Shifting his focus towards BDS, Mac says the French outfit has been the "big surprise" for him this year. "I think Adam has been completely popping off; BDS's bot lane has been doing way better than I expected as well. And Sheo has had a super good transition to LEC."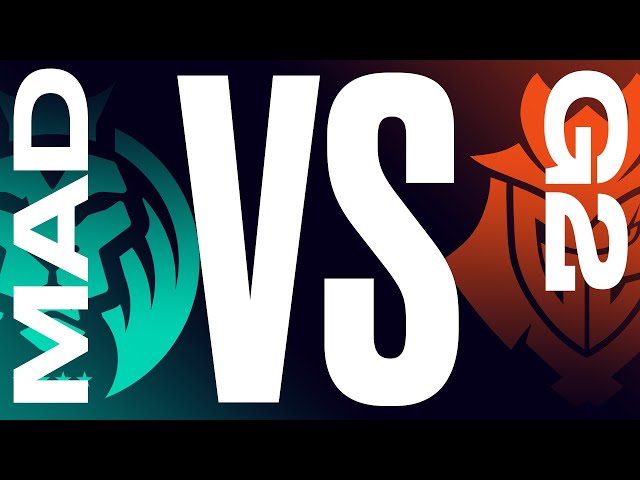 Then, of course, there's G2. According to Games of Legends, so far this year only G2 has had a faster average game time than MAD, for better or worse. While MAD has proven the more clinical team when ahead – boasting a 100% win rate in games it's ahead at by the 15-minute mark compared to G2's 83.3% – both rosters have showcased their prowess when it comes to swiftly snowballing leads, and destroying the enemy Nexus.
In fact, the only game G2 lost while ahead at 15 was against MAD at the end of Week Three.
As such, should the two match up, it's not hard to imagine sparks will fly in the early game as both sides wrestle for control. Additionally, with G2 showing its willingness to play off-meta picks like Karma top and Swain, on paper MAD will have much food for thought when conjuring up a game plan for a best-of-three. However, Mac's looking to bypass whatever G2 may have in store in the draft, and go straight for the jugular – G2's very patterns of play.
"G2 has a fairly consistent formula that it's been winning games with and looking good with," Mac asserts. "So our main aim is to make sure that it doesn't get to replicate that formula over and over again, like most teams have. All players have unconscious patterns or strengths – things that they're really, really good at and doing consistently. If you can take those crutches away they tend to fall down. So that's kind of the way that our preparation looks in terms of mindset for G2."
With MAD in fine form, we're eager to see if the Spanish organisation can stamp its authority on its group, and take the next step towards locking in that all-important Mid-Season Invitational spot.
Be sure to keep an eye out for Mac's thoughts on MSI heading to his native England, his ambitions for building the best team culture in the league, and how 2023's recruits both on and off the Rift are contributing to it, in the full interview coming soon.