A new Northern European League of Legends tournament run by DreamHack will start in June. The Northern League of Legends Championship (NLC) will support a new competitive ecosystem alongside the UKLC and Telia Esports Series and include teams from Scandinavia and the United Kingdom and Ireland.
The inaugural season will kick off online in June with 12 teams with a minimum of one million SEK ($100,000) per season being awarded to teams and players. The finals will be held at DreamHack Summer in Jonkoping, Sweden in August.
"DreamHack has been the leading esports organizer in the Nordics for a very long time and we are very excited to partner up with Riot on a long term basis to create a more stable ecosystem for players, fans, and teams around League of Legends," Michael Van Driel, chief product officer at DreamHack says in a press release. "In partnership with 12 top team organizations from all of the different countries here, the NLC we believe is going to be the best regional esports competition out there."
The NLC represents the peak of the Nordics and UK competitive ecosystem. Feeding into that will be five national leagues with eight teams each, as the video below explains. The top two teams from each national league will compete in the Telia Masters and the top two teams from that tournament will then compete in the relegation series of the LCS to try and secure slots in the top league.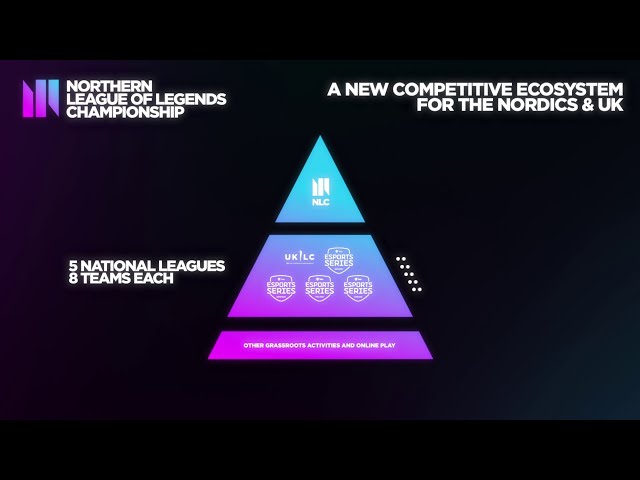 The leagues will feed into the EU Masters, although details on the seeding haven't yet been announced.