A League of Legends fan has honoured the career of Yiliang 'Doublelift' Peng, who retired from Team SoloMid last month after a career that spanned over a decade. The eight-time LCS title winner is already considered a legend of the game, in part due to a run in which he won five splits in a row for TSM and Team Liquid between the 2017 Summer Split and 2019 Summer Split.
Doublelift is widely considered as one of the greatest players in North American League of Legends. And – despite being regarded as having achieved little on the international stage – he has attended a record eight LoL Worlds tournaments.
To suggest this would be a blot on his otherwise stellar career would be a rank overstatement, but Doublelift's retirement was a little surprising. After suggesting Hu 'SwordArt' Shuo-Chieh would be a great addition to the TSM roster, the deal looked to have fallen through. But, just days after Doublelift's departure – and unbeknownst to the veteran – TSM completed the signing of SwordArt.
A career of such success cannot be undermined by a final misunderstanding, but League fans will be gutted to watch the 2021 LCS Spring Split without him – it will be the first ever not to feature the star.
However, his career is finally being honoured in the only way fans saw fit – a portrait made up of Rubik's Cubes. Some athletes get golden statues, others get honoured in Halls of Fame. But we all know what the real goal is for any athlete, esports or otherwise, and it involves 720 children's puzzles.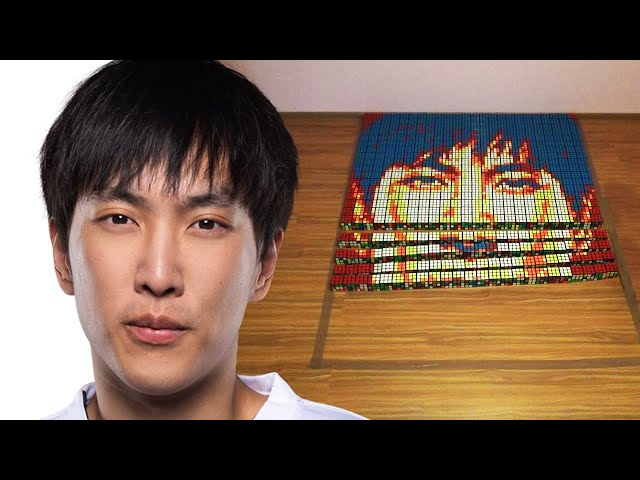 Jokes aside, the final portrait is mighty impressive, and took artist Cristian Leana nearly seven hours to make, and around 30 hours to design. In the YouTube timelapse of his process, Leana's only regret is not choosing a photo of Doublelift smiling, as that would have better represented his personality in tournaments and on streams.
The portrait strikes a remarkable resemblance, and shows the possibilities that can be opened up by creating portraits out of 6,480 tiny squares. There aren't a lot of LoL pros popular and successful enough to warrant such an elaborate piece of art.