It's time to emerge from pre-season for another year of LoL, and with the launch of Season 13, Riot has revealed details around the 2023 new League of Legends champions.
A few months ago at the start of pre-season, Riot teased two upcoming champions: a Darkin assassin, and a champion from Ixtal that would be LoL's first male enchanter. Well, now we've got some names for both of them.
The Darkin champion is Naafiri, who is a "midlane assassin made for [players] that want to focus on the hunt", according to Lexi Gao, lead champion producer for LoL. She comes with a "straightforward kit" and, judging from Gao's teases during a media preview event, has multiple bodies or forms. Gao also jokes that Naafiri is the only champion this year "without a shirt", citing LoL players' love for rippling abs on a champion.
As was revealed at the start of pre-season, Naafiri will follow the trend of being imprisoned in a form of weaponry, just like previous Darkin champions Varus and Aatrox. Her weapon will be a spooky-looking dagger.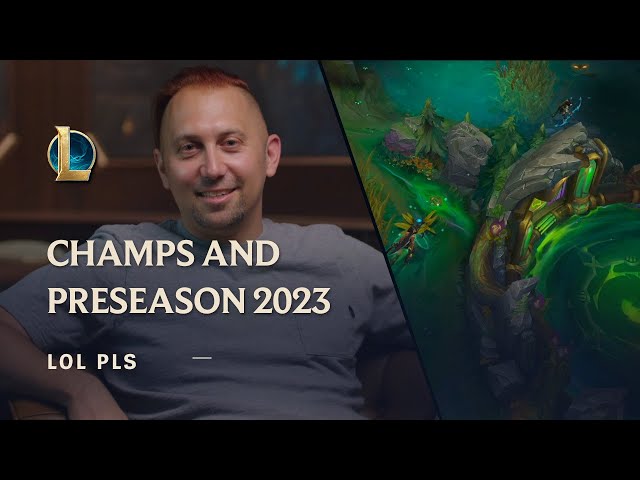 While Naafari sounds like a sinister and dark champion, the same can't be said for that Ixtal enchanter, who we now know is called Milio. While Milio can apparently wield fire, he does not use it offensively but rather as a means to heal and soothe wounds, according to Gao. Milio's teaser from the start of pre-season included a quick look at some cute little guys that appear to make up part of his kit, and they are quite flame-like in appearance. Gao also mentions that Milio has a "trusty backpack" that he takes on his journeys.
Despite the new details about these champions, no splash art was revealed, and neither were their expected release dates. However, from Gao's wording during the event, it did sound as if Milio will arrive first, with Naafiri coming after.
Aside from these two champions, we also get some teasers for two or three more champions that are in the pipeline for 2023. Gao says that we will get "a hangry jungler, and an artistic midlaner" later in the year, and reveals two pieces of teaser art that you can see below.
In an asset package sent to the media before the announcement, the two files for these teaser arts had some interesting names that potentially reveal a little more about these two champions.
The spooky looking structure for the jungler is named "Vampire Castle" – we wonder if this champion is "hangry" for blood? – while the midlaner's teaser is named "InkMage", not only clarifying the black substance in their teaser art is ink but potentially hinting at their class too. Consider this speculation for now, but those file names certainly give food for thought.
In addition, during a Q+A with a panel of LoL developers, Gao is also asked whether we might see new monster or creature-based champions in 2023 following a long string of human-like champions. She coyly answers: "Yes, there will be a monster for 2023." It's unclear whether that relates to any of the four champions already mentioned, or if that's a separate fifth champion.
So, that's a look at some of the new champions coming to League of Legends this year. It's pretty varied, even with the limited info we have so far. Riot says it continues to "invest in their goals of making a more diverse champion pool that's inclusive of all cultures, genders, and in-game skill levels for every role," and it certainly sounds like we're getting that.
With Season 13 kicking off, take a look at what's changed in LoL patch 13.1 which makes some initial tweaks for the long year ahead.