Hitman 3 developer IO Interactive has announced a new series of DLC for the stealth sandbox game. Hitman 3: Seven Deadly Sins is "a new seven-part premium expansion for Hitman 3 that takes players deep into the mind of Agent 47." Act 1: Greed is set to launch on March 30.
IO promises that the DLC will provide "new gameplay opportunities, visually distinct contracts and unique sin-themed rewards." Additionally, in traditional Hitman style, Seven Deadly Sins seeks to "subvert expectations" throughout each act.
Each DLC pack is set to include a "visually distinct contract, sin-themed unlockable suit and at least one sin-themed item that can be used across the World of Assassination." Act 1: Greed, for example, features an Escalation Contract called 'The Greed Enumeration', allowing players to carry certain items over between its three stages – if they want to be greedy, of course. Greed will also include an "unlockable Rapacious Suit and two sin-themed items; the Greedy Little Coin and The Devil's Cane."
In the announcement trailer below, which gives a glimmer of what Act 1: Greed has to offer players in the golden locale of Dubai, 47 has more drip than a faulty tap.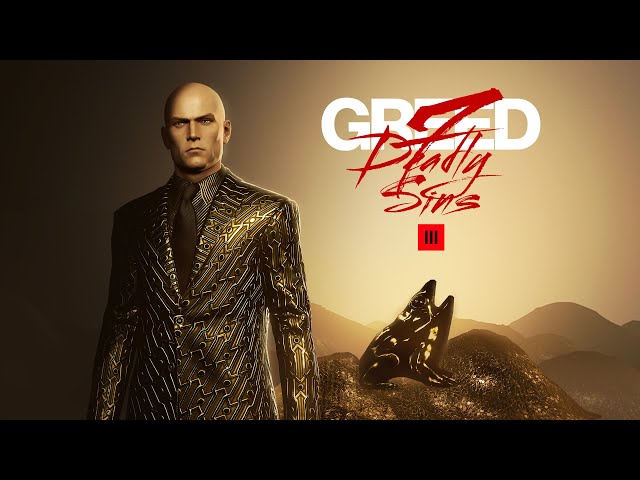 Players will be able to get their hands each piece of DLC for $4.99 / £4.99 / €4.99, or their regional equivalent. Additionally, the full collection can be snagged at a slight discount, coming in at $29.99 / £29.99 / €29.99, or regional equivalent.
On top of the new paid content, IO has rebranded its free live content rollout. Rather than monthly or bi-monthly roadmaps, content will now be released as part of a 'Season of Sin'. March 30 will see the beginning of the 'Season of Greed', which the developer says will last between 4-6 weeks – presumably the time period between the release of each DLC act.