Our living rooms and lounges are getting a makeover, at least virtually anyway as we race across Watkins Glen New and Brands Hatch. Yes, Gran Turismo 7's PSVR 2 upgrade is nearly here and it's looking promising. GT7 players may have found the Virtual Showroom mode disappointing in the last-gen version of the Polyphony Digital racer – but things have changed. Now, there is some serious horsepower under the PS5's hood.
Gran Turismo 7 on PSVR 2 is already enticing – especially as a free upgrade. But while you might be waiting for all the upcoming PSVR 2 games, you'll likely be captivated by GT7's overhauled Virtual Showroom mode. The mode, which is brought over from the last-gen version, allows players to get up close and personal with their favourite vehicles. Rather than racing though, this mode is a petrolhead's dream to appreciate the finer details.
During IGN's Gran Turismo 7 PSVR 2 preview, executive editor Ryan McCaffrey explains that he "came out [of the preview], legit, kind of blown away." Specifically, McCaffrey says "while you can't actually get up and walk around the car, you can be in the cockpit of the car […] having owned a Delorean for 12 years […] it really was like I was sitting in the car again." This is already a win for Back To The Future fans. But it gets better.
Alongside IGN's preview, YouTuber 'TraxionGG' details that you can "pick any car, plus one of the 11 locations including the cafe and GT auto […] you can view up close the obsessive level of detail in the car modelling inside and out."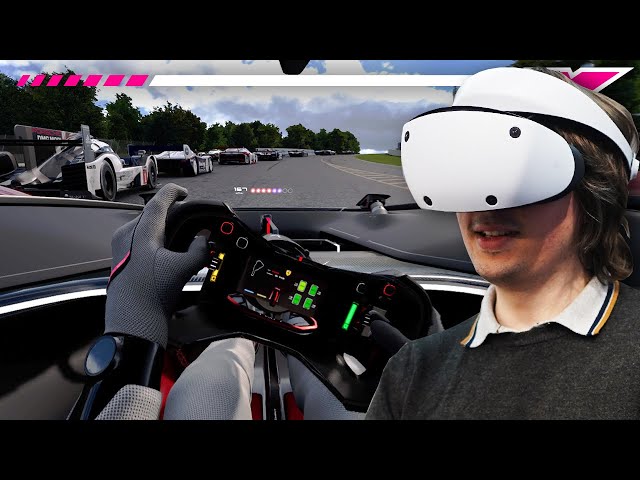 "This is augmented by 3D-audio […] we spent far too long ogling at the electric window switch on the Ferrari Testarossa," adds the YouTuber.
Of course, the game still carries over the franchise's penchant for immense racing but this seems like a real treat for car enthusiasts. Forget the likes of Forza Horizon 5, now you can spend hours sitting in your favourite vehicles, chatting with your mates and appreciating the mechanical prowess on display.
Get your calendar out and mark down the Gran Turismo 7 PSVR 2 release date. And that isn't the end of the treats for PSVR 2 players. GT7 will debut with an array of other PSVR 2 launch games, but you might notice the disappearance of a vital title.