Now pay attention, Bond fans. Goldeneye 007 has finally arrived on Xbox Series X and Nintendo Switch, after years of licensing issues. Based on the smash hit Pierce Brosnan spy thriller, developer Rare shaped multiplayer FPS culture back in the day. But 26 years later, the Goldeneye 007 Switch controls are sending Bond fans to an early demise. Are you a classic N64 or a modern shooter layout player?
With the release of Goldeneye 007 on Xbox Game Pass, James Bond fanatics are playing the game for the first time or returning for nostalgia. The game has been updated with 4K visuals and a better framerate, but its controls are proving divisive. Though the Goldeneye 007 Switch controls are reminiscent of their N64 equivalent – there is a way to change them to reflect shooters like Modern Warfare 2 or Apex Legends. YouTuber 'GameXplain' specifies that Nintendo Switch players should change their layout to the "1.2 Solitaire option via the pause menu."
GameXplain recommends toggling the look up/down option to upright. However, you'll need to go into the actual system settings on the Switch and enter the button mapping menu. Here you can swap the order of your sticks, which will align them properly. By enabling this, Goldeneye 007's controls will now be mapped appropriately to your controller in the vein of a modern-day FPS.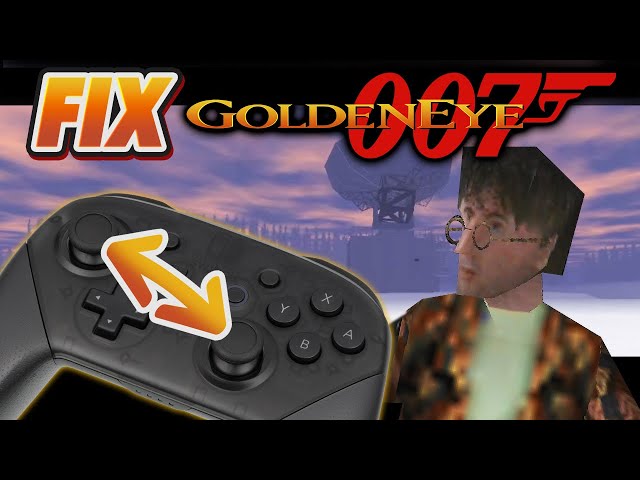 The YouTuber also details how to enhance your trigger preferences, which you can view in the video above, along with a very useful widescreen fix. Goldeneye 007 was designed with the single stick function of the N64 controller in mind, which has remained a talking point for Bond fans over the years. But don't sweat it anymore, you can die another day in the game's online multiplayer now.
There is a catch to that, though. Goldeneye 007 online multiplayer is exclusive to Nintendo Switch fans only. As the handheld console uses emulation for the game, players will be battling it out using Nintendo's own infrastructure. Goldeneye 007 Xbox multiplayer is sadly absent from the next-gen release.
James Bond's iconic adventure isn't the only game worth diving into on Xbox Game Pass. There are plenty of brilliant titles to explore in the Xbox Games Pass February 2023 games lineup, including the likes of Atomic Heart.