Another Genshin Impact livestream has been and gone, and not only are we plumped up with a few more Genshin Impact codes for those much-needed Primogems, but we have also been fed plenty of details about what's to come in the hit ARPG's latest version when it arrives on March 30. With so much to come, here's our full Genshin Impact 2.6 livestream rundown.
The latest addition to the roster of Genshin Impact characters, Kamisato Ayato, joined Ayaka and Aether at the table for the stream welcoming in Version 2.6, 'Zephyr of the Violet Garden'. The trailer for the new version opens up with Klee arriving in Inazuma for the Magnificent Irodori Festival – a cultural festival headed up by the Yashiro Commission and Yae Miko in the wake of the Sakoku Decree's abolition. Throughout there are cameos from Xingqiu, Sayu, Itto, Thoma, Albedo, Venti, and of course the Kamisato siblings themselves.
We were also treated to a brief showcase confirming the Kamisato Ayato release date, his weapon – Haran Geppaku Futsu – as well as his abilities. Ayato's story quest – Cypressus Custos Chapter – will see him placed into an "unusual position" as Inazuma begins to usher in a new era of progress.
As a fun piece of trivia, the boba tea Ayato has a hankering for is acquired from a small stand in Inazuma. HoYoverse, boba making event when?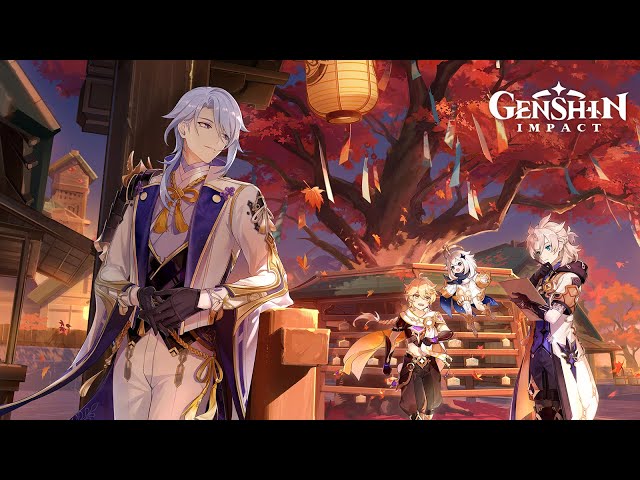 On the topic of events, you can't have a cultural festival without a healthy dose of minigames. This time around, players can look forward to taking photographs for Venti, returning to an upgraded Theater Mechanicus, challenging sword fighting duels, and producing gorgeous ikebana arrangements that can be placed in their Serenitea Pots. Clearing all of the festival's challenges will net players a free copy of Xingqiu among other rewards.
The livestream also revealed the next Genshin Impact banner. Ayato will debut on the Character Event Wish banner in Phase One alongside a rerun for Venti, while Ayaka will have a solo rerun later in Phase Two. The Weapon Event Wish banner will feature Haran Geppaku Futsu, though the full lineup has yet to be confirmed.
Inazuma doesn't get to have all the fun in 2.6, either. Over in Liyue, an Abyss Order portal has emerged in the mysterious new area just west of Lisha, the Chasm. And, of course, when the Abyss Order gets involved, Dainsleif is never too far behind.
Razer DeathAdder V2 Pro – Genshin Impact Edition Razer DeathAdder V2 Pro – Genshin Impact Edition Razer $139.99 Buy Now
That's right, the man from Khaenri'ah will also make an appearance in Genshin's latest Archon Quest instalment, Requiem of the Echoing Depths. From what we were teased, it looks like we could be seeing more of the Traveller's lost sibling during the quest, while learning more about Khaenri'ah and the Abyss.
During this segment, we were given a fresh look at the Chasm. This mountainous region hides an eerie, sprawling subterranean network of caverns that we know are going to be chock-full of secrets.
To help players navigate through the Chasm's pathways, they will receive a new gadget called the 'Lumenstone Adjuvant'. Clearing through the Chasm will allow players to unlock more rewards, including a four-star weapon billet and a brand new namecard to display on their profiles.
And that's our full Genshin Impact 2.6 livestream rundown. Needless to say, there's a lot for players to look forward to across Liyue and Inazuma in the game's upcoming update.