Forza Horizon 5 early access has begun and players are beginning to discover just how cinematic and epic the game's opening drive is. As we highlighted in our Forza Horizon 5 review, this first drive creates a great atmosphere and looks stunning – so stunning in fact, we think it's the best-looking scripted sequence we've ever seen in a videogame.
This opening sequence is clearly an important event in Forza Horizon games – it sets the stage, tone, and atmosphere for the rest of your adventure. It's so important in fact, that it was one of the very first things the team at Playground Games worked on for Forza Horizon 5.
In response to a question asked by our friends at PCGamesN, on behalf of The Loadout, Forza Horizon 5's creative director, Mike Brown, reveals that Playground Games "begins conceptualising the initial drive before we even enter production".
"It's certainly one of the largest bodies of work we have," he says. "We factor it into our initial world design because we want to have an idea of what it will look like as we're formulating how the open world will all fit together, so we know we've got a really excellent drive that's built into our world right from the start."
Forza Horizon 5's technical art director, Gareth Harwood also explains the process of making these exhilarating opening sequences, which involves creating "lots of moment-to-moment concepts" with each lasting for "about 15-20 seconds". And, if you have already experienced the drive, then you will notice this approach, with the race being split into sections with different vehicles and set in different biomes within Mexico.
From there, those locations where the first drive will take place are the focus for Playground Games initially and are given "earlier priority" by the design team when compared to other sections of the map. Harwood goes on to say that even at the basic white-box stage (internal testing to make sure the game works as intended), Playground Games will "put together a video and cut in these concepts and build from there. Once the team has got to the point where the drive is playable, they then start to do weekly, and then daily reviews of the drive."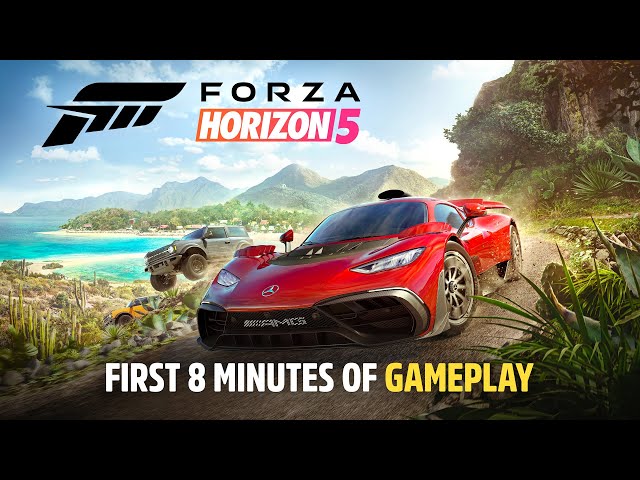 Despite going through so much internal scrutiny, Brown reveals that "the initial concept is really close to what we delivered."
"As much as we tweak, polish, and play around with different cars and their positions right up until the end, the core of it didn't change much," he adds. "It really is a body of work that runs from the very start of our concept phase."
Brown also says that "every team [at the studio] has a lot of input on it because everyone at Playground Games takes great pride in it." Combining art, level design, cinematics, and more, "each team has something in there."
It's clear that the first drive is – and will remain – an important starting block for any Forza Horizon title, and the amount of attention and high priority it receives is reflected in the level of polish in Forza Horizon 5's stunning opening moments.
To experience it for yourself, Forza Horizon 5 will be coming to Game Pass on November 9.