Fortnite Chapter 2 Season 7 has arrived, and has brought with it an alien invasion. Most active players foresaw this, as crop circles have been appearing across the Fortnite map and towards the end of Season 6, UFOs were abducting players and dropping them in random places.
As you can see in the season trailers, there are also plenty of new characters joining the fray to fight the invasion. Rick Sanchez of Rick and Morty fame has his two-dimensional eyes set on picking up a wubba lubba dub, and DC Comics' most famous alien Superman will bring his own brand of superhuman justice to the Fortnite arena.
However, the biggest additions to Fortnite in Season 7 appear to be the weapons – for the moment at least. The AUG returns in Fortnite Season 7, and the Burst Assault Rifle is a far cry from the Primal weapons that we saw last season. We'll wait to have a little play with it and make sure it hasn't been nerfed before adding it to our tier list of Fortnite's best weapons.
Also Unvaulted are the Hand Cannon, Launch Pads, SMGs, all Pistols and Assault Rifles, the Bolt-Action Sniper, and Tactical and Pump Shotguns.
One of the brand new weapons in Season 7 is looking particularly overpowered: the Rail Gun. This monstrosity takes a couple of seconds to charge up its devastating laser beam, but when it does, it can not only do massive damage to opponents, but also shoot directly through their builds. If you thought four walls would protect you while you down a chug jug, you're wrong.
The Rail Gun is also powerful enough to blast vehicles out of the way – perfect for routing out opponents taking cover from your otherworldly beams.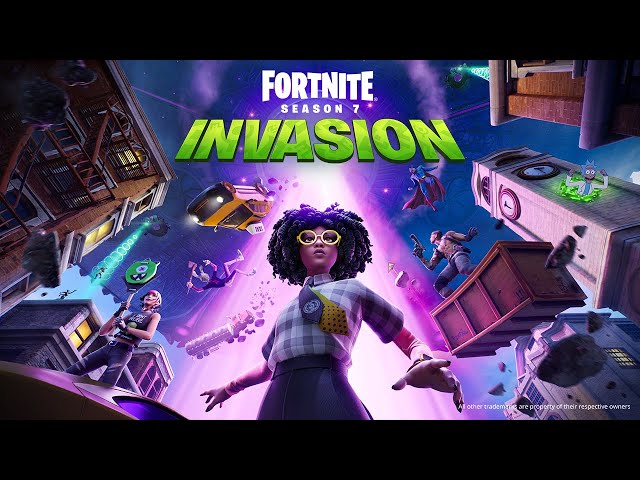 Another new addition, the Kymera Ray Gun, fires a continuous beam of energy that rapidly racks up damage, and the Recon Scanner Launcher reveals enemies and chests. The Pulse Rifle is the final alien addition, which is a fully automatic Assault Rifle when hipfiring, but has a much slower rate of fire when you aim down sights.
However, the brutal weapons aren't the only xenos tech making its way into the battle royale. Remember those UFOs that were dropping you in random spots last season? Well now you can pilot them for real – and abduct other players.
Fortnite Season 7 is set to be an interplanetary extravaganza, and the new and returning weapons will give the Primal meta a hell of a shake up.