Streamers are always innovating, creating, and generally trying to create the most exciting and innovative content possible. Whether that's by becoming the best player at a certain game, or just having a glistening personality – you need a uniqueness to your streams in order to stand out from the millions of other creators.
The biggest streamers have loyal fans who turn up to every stream to support them, but that's no reason to rest on their laurels. Lachlan 'Lachlan' Power is taking his streams to the next level with a facecam mod to beat any other.
His green-screen facecam background changes colour in real time depending on how much health he has remaining in games of Fortnite. What's more, the border of his webcam will fill up blue as he consumes more shields. Pretty cool, right? It's like watching a chameleon play a third-person shooter, except Lachlan doesn't use his tongue to push the buttons. Obviously.
He debuted the next-level streaming mod in a YouTube video, citing the addition as the "future of Fortnite content". Unfortunately, the groovy facecam wasn't enough to improve Lachlan's gameplay. "No matter how much money I spend on a facecam border," he says as his character falls to its death, "I still do dumb things."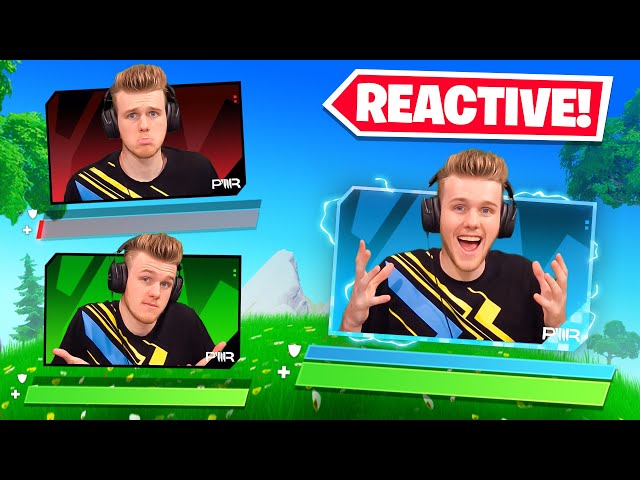 This is in no way the first time that streamers have modded their streams to incorporate their Fortnite gameplay, but it's certainly one of the coolest. YouTuber Michael Reeves modded a BB gun to shoot him whenever he took damage in Fortnite matches – with painful results. Do not try that at home. Please.
Lachlan's real-time changing facecam could be the tip of the iceberg for chameleon-esque streaming gear. Many of his viewers suggested adding a purple effect when he was in the storm, but why stop at Fortnite? Perhaps Pokémon TCG streamers could change the colour of their background based on the typing of their best pull, or Warzone streamers could change theirs to reflect their killstreaks? The opportunities are endless, and infinitely more difficult to code.