Easily the most terrifying part of the original Dying Light was venturing out into the streets of Harran at night. Whilst out of your safehouse after sundown, you would have to run away from terrifying Volatiles as they chased you relentlessly through the back alleys and rooftops of the city. However, in Dying Light 2, those relentless moments have been toned down slightly when playing on the game's base difficulty.
Speaking in the latest issue of EDGE magazine, Tymon Smektala, Dying Light 2's lead designer, says that the opening hours will be more approachable for new players. Criticism was levelled at the first game in 2015 for how much pressure you were under early on, due to your lack of tools to handle the Volatiles.
In order to compensate for that lower challenge early on in Dying Light 2 when playing on the base difficulty, Smektala reveals that there is a setting in the game that will recreate the experience players felt in the original. He says that this difficulty is "very close to the original's pressure in everything trying to kill you and it's nighttime experience". Internally, this difficulty is referred to as Harran Survivors and is a callback to the first game and for experienced players. This suggests that if you play on the lowest difficulty you won't see the same heart-pounding nighttime gameplay that the first game was both praised and criticised for.
We have seen these changes to nighttime moments already when out on the streets of Villedor in early Dying Light 2 gameplay. Zombies are far more idle than they were in the first game and it appears as if you won't be swarmed quite as much. Volatiles also seem to be less common as they were in the original Dying Light.
However, it is great to know that the blood-pumping thrills of being chased by hordes of zombies and Volatiles hasn't been totally removed. Smektala has also touched on a third difficulty mode in a Twitch Gaming interview. Called Nightrunner, this mode is the most immersive in the game and removes certain HUD elements and makes resources harder to find.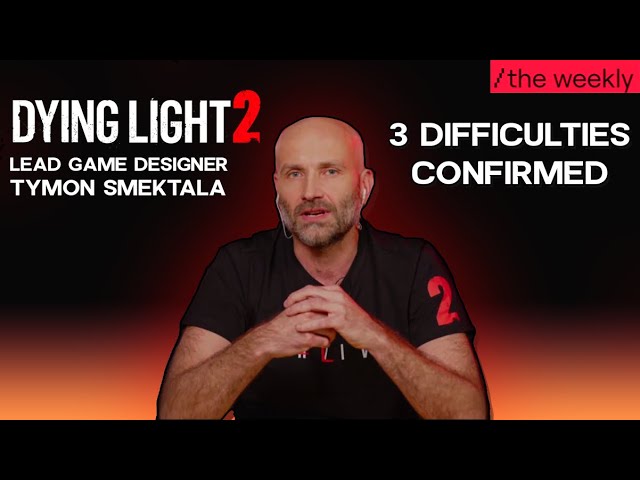 When this is paired with the increased intensity of night gameplay you will definitely have a challenge on your hands if you opt for the Nightrunner difficulty when Dying Light 2 releases in early February 2022. However, the three distinct options should hopefully make it more approachable for everyone who wants to give the game a try.