The first-person medieval adventure game Dark and Darker invites players to explore dangerous tunnels and rooms where treasures, as well as take on many dangers that await them. The game hasn't been released yet but the initial playtests have attracted the attention of players looking for a hardcore medieval experience. If this type of game is what you are looking for, you may want to know whether Dark and Darker is coming to PS5, PS4, or not.
Dark and Darker offers a hardcore experience, many times compared to Escape from Tarkov but with a medieval theme. By being a quite hard online game to master, it may be the type of competitive scenario you are looking for alongside some of the other best FPS games.
Is Dark and Darker coming to PS5, PS4?
While it hasn't been officially announced, Dark and Darker may be coming to PS5 and PS4 in the future. As stated in a tweet made by Ironmace Games, bringing Dark and Darker to consoles is a part of their plan, but it will happen only after everything is set with the PC version.
So far, players only have access to the game on PC and, there is no date confirmed nor how long it will take to have the PS5 or PS4 version of Dark and Darker.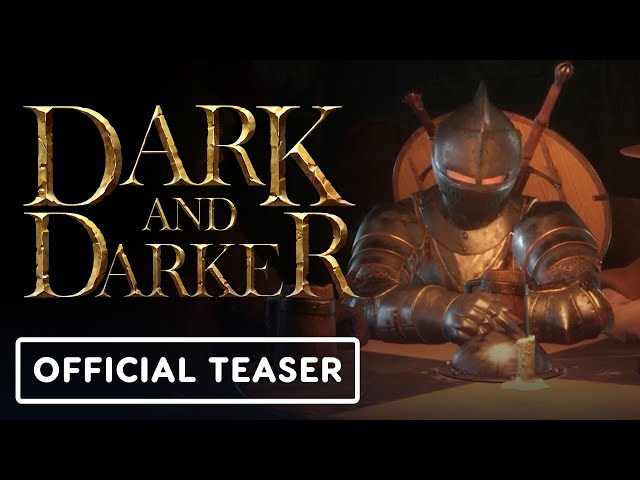 Dark and Darker story
In the world of Dark and Darker, players trail a dangerous path where courage and skill pave the way to the bleak rooms full of gold. Based on classic fantasy stories, the game introduces a medieval world where everyone tries to find glory as adventurers. As a dungeon-crawler, Dark and Darker offers an experience similar to the one in games such as Dungeons & Dragons. In such a scenario, to have songs sung about the feats achieved, players must first be able to survive the perils waiting for them in the dungeons.
Your adventure in Dark and Darker begins in a tavern, where you can prepare your equipment and all the items you may need to survive. Once you're inside the dungeon, you – or you and your party – must dive further into the place, opening doors, and checking rooms hoping to find a chest full of gold coins and shiny armour. There are, however, many dangers around that you must always be prepared for!
Skeletons may come out of the ground when you get near treasure to wipe your party or a giant troll might be blocking a door in a very small room. You will also battle against time and try to escape from the dungeon before the dark swarm gets your soul.
Dark and Darker gameplay
Dark and Darker is a PvPvE first-person dungeon crawler. Using a traditional class system, the game offers six possible jobs for players to choose from: Fighter, Wizard, Ranger, Barbarian, Cleric, and Rogue. Even though these classes differ from each other in very specific ways, players will either fight using weapons such as long swords, and crossbows as well as magic. Because weapons in Dark and Darker have received quite realistic treatment, making handling them well a matter of skill, it may take a couple of runs of training with each weapon to get used to their rhythm.
Now, the main goal in every match is to find treasures as players explore the dungeon and escape alive. To make players' lives difficult and prevent them from keeping their pockets full of gold, Dark and Darker dungeons are filled with creatures that can easily kill them. If this wasn't enough, there is also the PvP factor, making every player in a match a potential threat.
Last but not least, Dark and Darker pushes players to confront these many dangers with a system of safe zones similar to the rings, like what games such as Fortnite and the other best battle royale games have. Thus going further into the dungeon is their only option. If players survive until they find a portal, then they can get out of the dungeon, ensuring every piece of loot found during the run is kept. Doing so, allows players to sell the treasures to cover the expenses with healing items and better pieces of equipment which is key to progress in the game.
That covers everything we know about if Dark and Darker is coming to PS4 and PS5. In case you want to know more about other console games until Dark and Darker is officially released to consoles, be sure to check our best PS5 games and best Xbox Series X games.