YouTuber 'ScriptKid' has come up with an ingenious way to troll would-be Counter-Strike: Global Offensive cheaters, by uploading fake cheating software to trick players seeking to gain an unfair advantage into dying in hilarious ways.
ScriptKid recorded a game of someone who had downloaded their software, and watched as the cheater ended up randomly jumping off the map and falling to their death. The software is "designed to backfire," ScriptKid explains, meaning the cheater won't realise they're being trolled until it's too late.
The software is designed to look like a real cheat client, but if someone tries to use it in a ranked match, it will "mess with their game in unexpected and funny ways." Jumping off a roof is just one example; the software can also lock doors, set off grenades beneath a cheater's feet, trigger 'drunken movement', slow down their movement, or much more. This software works by installing 'trip wires' across the map.
These trip wires have a 50/50 chance of activating a punishment when the cheater walks through them, but won't tell the cheater they're being punished. This means the cheater won't know what's going on and won't immediately understand how to stop it.
But why exactly did that first player jump off the map? In that case, they activated the punishment 'Mind Control', where passing a certain section of the map gives you a 50/50 chance of having the operator ignore your controls and jump off the building. This hapless cheater apparently fell victim to the same punishment three times in a row, then left the game for good.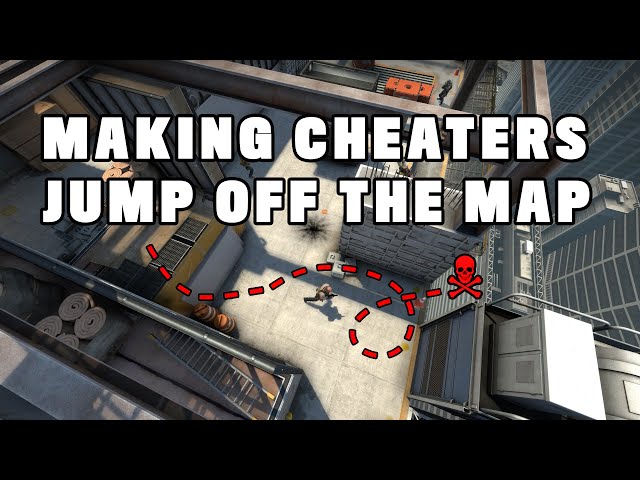 This is the second time ScriptKid has put together a compilation of CS:GO cheat punishments, and unless everybody suddenly decides to play fair, a third one may be coming in the future too.