For a lot of Call of Duty Warzone players out there, earning a battle royale victory is no small feat – and sometimes, it just doesn't happen at all. Whether you're playing in a squad or dropping into Caldera solo, you're going to be up against almost one hundred other people all fighting to be the last one alive. So… Yeah, there's quite a bit of competition all the time – as is the nature of a battle royale game. Thankfully, if you're as talented as FaZe Clan content creator Kris 'Swagg' Lamberson, these things come a little easier. In fact, Swagg is so good at Warzone that he just got his 2,000th win with a crossbow.
Yeah, you're reading that right… Swagg has managed to rack up 2,000 wins in Warzone over the last couple of years and he secured the milestone one with Crossbow and an Explosive Bolt.
Documenting this impressive feat, Swagg uploaded the entire match to YouTube – so we could all bask in his glory. This complete VOD of the game also reveals just how well he actually did with the Crossbow in-game.
Despite the fact that it wasn't the only weapon he used, it was used consistently as he made his way to 24 kills and a Warzone win – and it does confirm that he got the final kill with a Crossbow (well, the down that led to the final kill anyway).
If you want to watch this incredible feat in its entirety, you can check it out below. In the match, Swagg is squadded up with FaZe Santana, FaZe Booya, and Jay while playing under the alias of FaZe Doozy.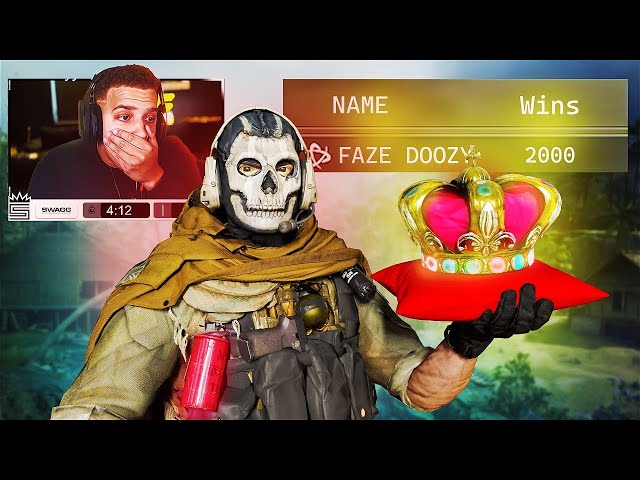 If the fact that Swagg has managed to secure a Warzone win with a Crossbow isn't that impressive, perhaps the fact that – if he's still sat on 2,000 Warzone wins – he's earned well over at least two a day since Warzone was released in March 2020. For those of us that have been on a win drought for a while, that's an impressive feat in itself.
The Crossbow might not be one of the best Warzone guns available, or feature in the Warzone meta at all, but it goes to show that any weapon in the right hands is deadly enough to get a win. After watching this, it looks like we might have to throw a Crossbow into a couple of our best Warzone loadouts for a while – they just look so satisfying to use.