In Call of Duty Warzone Pacific, now more than ever, it's vital to have a balanced loadout (using the best Warzone guns) to hand – one that can tackle immediate threats at close range as well as it can handle long range gunfights. 'JGOD', a trusted name when it comes to putting together the best Warzone loadouts, has been crunching numbers (again) to reveal the best long-range options for the evolving Warzone meta – however, his first choice is a little unusual. JGOD believes the XM4 is the best long-range option for Warzone Pacific right now.
In his video on the long-range meta for Warzone right now, JGOD begins with an insight into the weapons with the best viable TTK (time to kill) for both Caldera and Rebirth Island. For Caldera, Black Ops Cold War's EM2, the MG-82, and Modern Warfare's Bruen have the best TTK – according to JGOD. As for Rebirth Island, the Bruen features again alongside the C58 and the PKM.
Of course, this is an important statistic to keep in mind when picking your primary weapon for your Warzone loadout. However, JGOD suggests that it's not practical to base your choice purely on this factor due to varying recoil patterns. "No matter how good a gun is in terms of TTK, if you can't hit your shots that gun is useless", he says – and we agree.
But, why is JGOD suggesting the XM4? Looking at his number-crunching, it's got the 5th lowest viable TTK for Caldera and the 7th lowest for Rebirth Island. In addition to this, it's far from the best offering when it comes to the amount of damage you can deal with one magazine – although, it's an unfair comparison when it comes to an assault rifle against an LMG.
JGOD has suggested that the XM4 is the best long-range weapon for Warzone Pacific during Season 2 Reloaded for one primary reason: the XM4 is "one of the easiest, most versatile weapons to use".
Despite the fact that it's lacking damage, the XM4 boasts a decent-enough damage range and manageable recoil control that should translate into players landing more shots at a distance than they would with stronger weapons. As for the weapon build itself, JGOD has opted for the Agency Suppressor, 13.5" Task Force barrel, the Field Agent Grip, and the STANAG 60 Round magazine. As with a lot of other Black Ops Cold War weapons, the Axial Arms 3x optic makes an appearance to round-out this build.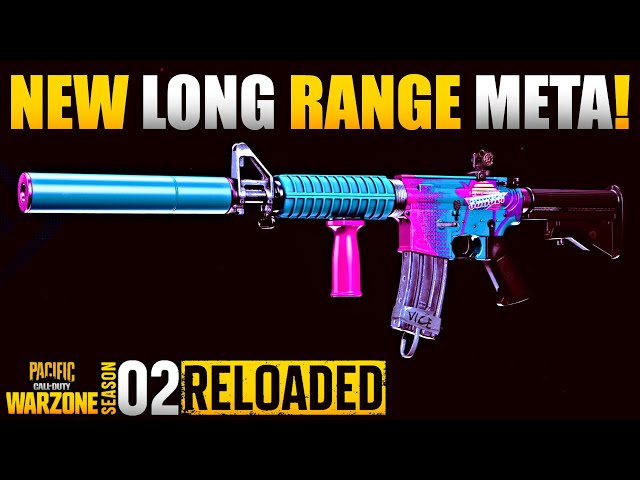 As you can see in the video above, if the XM4 isn't to your liking, JGOD has also suggested Black Ops Cold War's AK-47, Vanguard's Automaton, the C58, and the Bren as viable long-range options.