There are a lot of weapons available in Call of Duty Warzone, but there's nothing quite like the M16. It's a Call of Duty classic and Black Ops Cold War brought it back into the fold for battle royale players to use – and we're so glad that it did. If you want to use this weapon, you need to check out the best M16 Warzone loadout as we head into Season 4 and beyond.
You won't find this weapon high on the Warzone meta, but that doesn't mean it isn't one of the best Warzone guns available at the moment. With the right attachments and the correct perks, you can get a M16 Warzone loadout that beams enemies at a range – something that's important in Warzone.
Before we get stuck into what you're going to need, you'll want to keep in mind that this weapon isn't going to do you any favours at close range. But, we'll be sure to recommend some close-range options for you to pair it with.
M16 Warzone loadout
'WhoIsImmortal', a Call of Duty content creator with a knack for throwing together great Warzone loadouts, has put together an M16 Warzone loadout that you won't want to sleep on. They have even gone as far as to say that "you need to use" this build. Sound good? Here's what you need to know:
Muzzle: Agency Silencer
Underbarrel: Field Agent Foregrip
Magazine: 45 Rnd
Optic: Axail Arms
Barrel: 16.3″ Titanium
For this M16 build, the Agency Silencer is a no-brainer. It increases this weapon's bullet velocity, effective damage range, and adds sounds suppression. Throwing the Field Agent Foregrip onto this weapon is also going to increase recoil control on both axis – something that's going to come in handy stalking the jungles of Caldera (and Rebirth Island/Fortune's Keep, of course).
Increasing the ammo count with the 45 Rnd Magazine is well-worth it, but you can also opt to use a larger magazine if you don't mind a slower ADS speed.
If you're looking to take advantage of the weapon's lack of recoil control, the Axail Arms 3x optic is a safe bet. Like we said, not great at close ranges but a beast at a (Axail) arms length. Throwing the 16.3″ Titanium barrel onto this to increase the fire rate will finish everything off.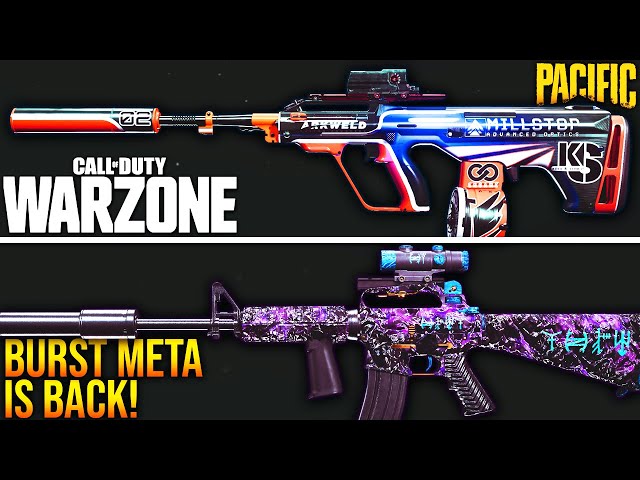 M16 Warzone loadout secondary weapons
You know what we're going to say next, don't you… This M16 is a long-range beast, so you need to drop into a battle royale game with a short-range option. Balancing your class is vital to success.
With this in mind, we recommend this Type 100 Warzone loadout, or this MP-40 Warzone loadout. However, there's also a few fantastic shotguns out there. This Jak-12 Warzone loadout does a job and, while shotguns are not as popular as SMGs, clearing out rooms on Rebirth Island with this is a lot of fun.
M16 Warzone loadout perks and equipment
When it comes to putting together some perks, there are really only three options you should consider. Double Time, Overkill, and Combat Scout. They're the most popular choices for a reason.
As for equipment options, Semtex and Throwing Knives work well in the lethal slot. And the tactical? Heartbeat Sensors remain a decent option, but Stun Grenades will come in handy if you're pushing with your secondary.
Is this M16 ever going to breach the top of the Warzone meta? We certainly hope so, but we'll see.