If you're a Call of Duty player who has been on the fence about picking up Modern Warfare 2 on your Xbox Series X or PS5 – or, of course, last-gen consoles and PC – then you're in luck. Why are you in luck? Well, because a Call of Duty Modern Warfare 2 free weekend is on the way – and it's also coinciding with the Season 2 Reloaded update and a triple double XP weekend. We know Mother's Day is coming up for some of us, but this really is one of the best weekends to play MW2 so far. If you're not sure what to use when you jump in, though, we have the best MW2 loadout for this free weekend below.
So, why don't we get stuck into things. If you want to jump into MW2 fresh, taking advantage of the best Modern Warfare 2 M4 loadout is a good way to go. This is a great all-rounder and still one of the best Modern Warfare 2 assault rifle options available.
For this M4 build, we turned to Call of Duty content creator 'WhoIsImmortal' – someone who is always throwing together excellent weapon builds.
For this M4, you're going to need to equip the following attachments:
Muzzle: Echoless-80
Underbarrel: Edge-47 Grip
Optic: AIM OP-V4
Ammunition: 5.56 High Velocity
Magazine: 45 Round Mag
With increased magazine capacity and improved stabiliy and recoil control, this build should help you find your feet in the chaos that is a Modern Warfare 2 multiplayer lobby with ease. You can check out specific attachment tuning in the video below, but we don't think any new players should worry about it that much – you need to max out the weapon to unlock it.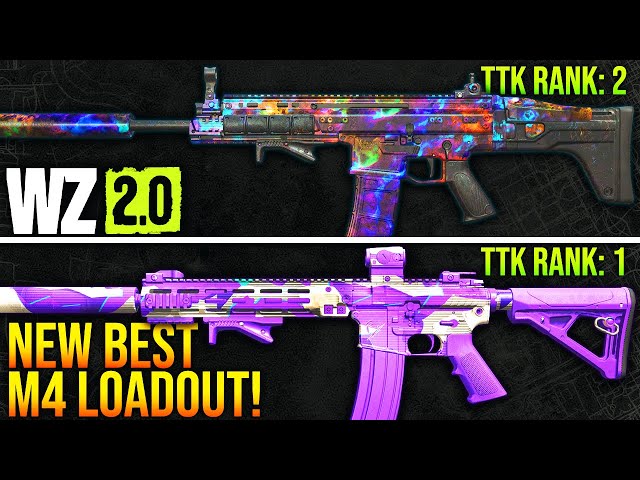 While you're here, it's also worth reading up on how the MW2 Season 2 Reloaded patch notes reveal a very important Ranked Play change. You won't be able to access this during the free weekend, but it's also a triple double XP weekend and this can be a great place to work on climbing the Modern Warfare 2 ranks while boosting your level.
The Call of Duty Modern Warfare 2 free weekend kicks off on March 16 at 10:00 PST / 13:00 EST / 18:00 GMT and will run until March 20. You'll be able to check out six multiplayer maps (Farm 18, Mercado Las Almas, Shipment, Dome, Himmelhatt Expo) across eight game modes (Team Deathmatch, Hardpoint, Domination, Kill Confirmed, Gun Game, Infected, One in the Chamber, All or Nothing) and the first episode of the MW2 Raid series on standard difficulty.
You can read up on the minutiae of the free weekend on the Call of Duty blog here – and find out specifics regarding the triple double XP weekend going on at the same time on the Warzone 2 Trello board right here.
If you want to read up on all the best Modern Warfare 2 guns, you can here. We also have other loadout recommendations for new players, including the best Modern Warfare 2 Lachmann Sub loadout, the best Modern Warfare 2 Kastov 762 loadout, and the best Modern Warfare 2 RPK loadout here – just to name a few.