How's it going, Modern Warfare 2 fans? We're back for another edition of Best MW2 Loadout of the Week, and this week we're saying 'screw you' to primary weapons and looking at a class that focuses on a deadly secondary weapon.
For 99.9% of the Call of Duty player base, their best MW2 loadouts are of course going to contain at least one primary gun, but in the limbo before the MW2 Season 2 release date, why not join the wild 0.1% and run a nuke-worthy class that harnesses the power of the X13 Auto pistol.
That's right, no ARs, SMGs, or snipers to mull over this week, it's all about this powerful little secondary. We spotted this belter of a loadout in a recent video from 'TheseKnivesOnly', a CoD YouTuber that isn't afraid of getting in the face of opponents with some melee weapon-focused content. For this class though, he's ditching the melees in favour of the X13 Auto.
This X13 build has a super fast fire rate, meaning that at close-range you have very quick TTKs that would rival even the best MW2 Fennec loadout. It's even fairly strong and accurate at mid-range too. TheseKnivesOnly compares it to some iconic fully-auto pistols from past CoD's, such as Black Ops 2's KAP-40, and we're inclined to agree.
Here are the attachments for this epic X13 class, and individual attachment tuning details can also be found in the video below.
Muzzle: FT Steel Fire
Barrel: Impact Point
Laser: FJK DI0D-70
Rear Grip: FTAC OL-Z Grip
Magazine: 33 Round Mag
To avoid temptation of using anything other than his X13 Auto and to keep it as the main focus of this loadout, TheseKnivesOnly's class pops a Riot Shield in the actual primary slot. If you did really want to maximise kills though, you'd ideally want one of the best MW2 assault rifles in that spot to cope with longer-range gunfights.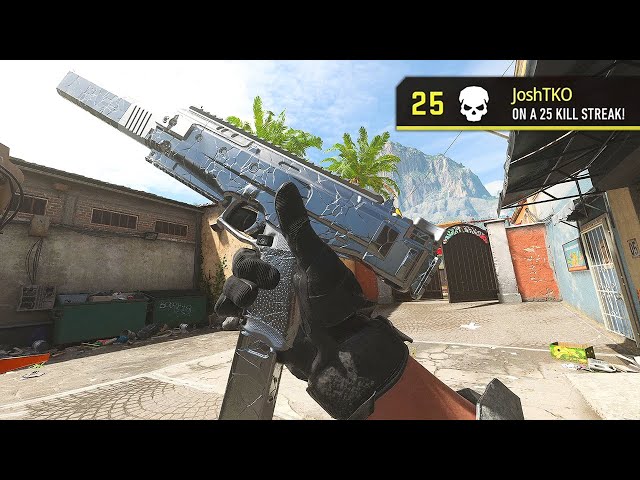 For equipment, Smokes and a Throwing Knife are the order of the day, while Dead Silence is the Field Upgrade of choice.
For perks, the lineup is Bomb Squad, Scavenger, Fast Hands, and Overclocked. We definitely recommend sticking with the first two, but Fast Hands and Overclocked can probably be switched out to your personal preference.
The X13 Auto has proved a lethal weapon in both MW2 and Warzone 2, mainly for its Akimbo attachment, but this loadout proves you can still mow people down with just one of them in hand, rather than two.
While not a conventional pick as one of the best MW2 guns, it certainly can go toe to toe with some of the game's top SMGs. As we all twiddle our thumbs waiting for Season 2, why not give this secondary-focused loadout a spin, especially on smaller maps like Shipment and Shoot House.