Hear ye, hear ye – it's time to talk about our latest entry into the best Modern Warfare 2 Loadout of the Week series and the first entry into this series since the start of Season 2 (which introduces a few new weapons to the shooter). Last time, we talked about one of the best Modern Warfare 2 TAQ-V loadouts available – something we still recommend. However, if you're looking to take advantage of a new Season 2 weapon, you're in the right place. We're here to talk about the ISO Hemlock and how you can maximise your effectiveness with this weapon in this Call of Duty multiplayer environment – you know, before it's nerfed.
Once you've worked out how to unlock the ISO Hemlock in Modern Warfare 2, you're really going to want to start levelling this assault rifle up. Why? Well, with the right attachments, it's devastating – and you might find a new firm favourite with this weapon.
And, if you're sitting there wondering just what those right attachments are, you're in the right place. We have turned to Call of Duty content creator 'Ears' for an ISO Hemlock build that really elevates this assault rifle to the next level.
So, without further ado, let's talk about the best Modern Warfare 2 ISO Hemlock loadout and what you need to know about how best to improve this assault rifle. Here's the weapon build you should be gunning for:
Muzzle: Echoless-80
Barrel: Fielder-T50
Underbarrel: FTAC Ripper 56
Optic: Cronen Mini Pro
Rear Grip: Phantom Grip
Here, the Fielder-T50 barrel is going to improve the ISO Hemlock's damage range and recoil control – both of which help it to dominate at medium to long range gunfights. Coupled with the sound suppression benefits of the Echoless-80 muzzle attachment, you're looking at a laser beam with pinpoint accuracy.
Making use of the Phantom Grip is also going to improve your Sprint to Fire speed and ADS speed with this assault rifle; so, you should find you're able to deal with anyone up-close and personal. It's also worth noting that the Cronen Mini Pro optic attachment can be tuned to improve ADS speeds even more.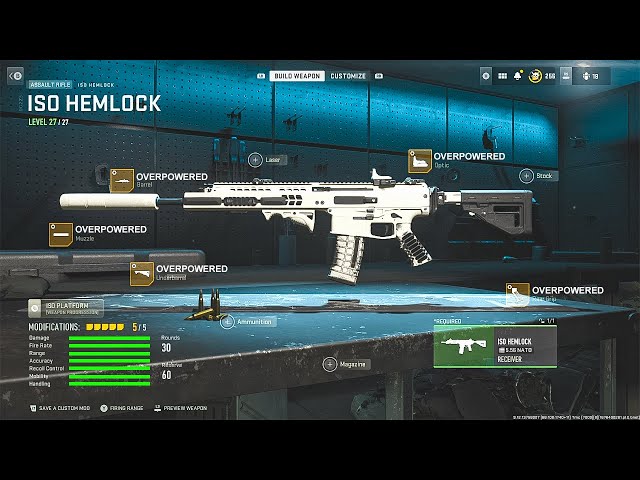 We know this sounds like a decent option to have to hand when you're jumping into a Team Deathmatch or Domination, but we need to talk about secondary weapons too. If you're not fancying an Overkill perk package, we recommend using an akimbo X13 setup or the combat knife. Both of these options are fantastic in closer quarters, and when you need to reload.
You can find out everything you need to know about the best Modern Warfare 2 perks right here and you'll need to use the following attachments if you want to make the most of akimbo X13's in-game:
Muzzle: FT Steel Fire
Barrel: XRK Sidewinder-6 Slide
Laser: 1mw Pistol Laser
Magazine: 24 Round Mag
Rear Grip: Akimbo X13
The ISO Hemlock is one of the best Modern Warfare 2 assault rifles right now and might just become one of the best Modern Warfare 2 guns in time. We can imagine it's going to be nerfed soon, so be sure to use it while you can.