Whether you prefer going toe-to-toe with King Aelfred of Wessex or delving into the maddening dreams of Havi, Lord of Asgard, we think there's one thing all Assassin's Creed Valhalla players can agree on: some of the DLCs in the Helix Store are just absurd. If you want to spend real money on weapons and armour in Ubisoft's drengr-filled action RPG, you can find a healthy mix of somewhat realistic-looking historical-inspired armour sets and wild, outlandish outfits here. However, if you thought the Knight ISU armour set was wild, wait until you see this… there's Iron Man armour coming to Assassin's Creed Valhalla.
Now, we know what you're thinking… Why on Earth would Ubisoft decide to introduce Iron Man inspired armour to an Assassin's Creed game set in ninth century England? Well, who's to say, really. But, trying to cash in on the popularity of Marvel Comics' characters and the continual success of Disney's Marvel Cinematic Universe makes perfect sense. And, when you consider all the strange and wonderful ISU-related weapons and armour sets both in-game and available to purchase in the Helix Store, it's not too insane.
However, what this Iron Man armour does in-game, according to the Assassin's Creed Valhalla leaks that have recently appeared online, is almost too insane. Why? Well, players will be able to shoot a laser beam from their chests – just like Iron Man's iconic Uni-Beam.
If you want to check out this leaked Iron Man armour for yourself – alongside some Thanos-inspired items, too – you are in the right place. Popular Assassin's Creed content creator 'Assassin JorRaptor' has uploaded some gameplay footage of the armour, showcasing it and its' unique abilities in action, thanks to both 'GamerLilGames' and 'Vijeesh Gaming'.
It's important to note that this armour set has reportedly been data mined from the PC version of the game – so, take what you see with a pinch of salt. As crazy as it all seems, it does look legitimate – however, that doesn't mean that it is. You can see for yourself below: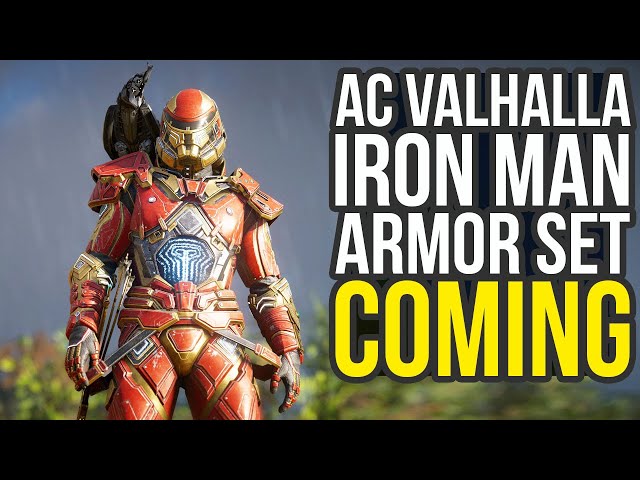 As you can see in the aforementioned video, one of the bonuses this armour grants players who fully equip it is described as follows: "An energy beam is discharged from the armour when using the Battle Cry ability causing area damage."
If you watch enough of the footage, you'll see this transformed Battle Cry in action. We have seen this sort of thing in Assassin's Creed Valhalla before, in the form of fiery explosions and ice shards, but never something energy-based. This isn't to say that we won't see this added to the game, it's just surprising to see Ubisoft introduce a seemingly new elemental attack this late into the game's lifetime.
However, the Forgotten Saga DLC has just dropped and includes quite a few new mechanics – so, it's clear that Ubisoft's work isn't quite done when it comes to adding to the impressive array of content available in-game. We know England in Assassin's Creed Valhalla is more accurate than you think, but perhaps we shouldn't look at this game with such scrutinous eyes anymore. It's a fun, Vikingr adventure with weird and wonderful abilities and weapons – and it's easily one of the best PS5 games and best Xbox games out there right now. So, it's not worth trying to work out how and why Ubisoft is including Iron Man armour.