With everyone's eyes on Assassin's Creed Mirage, we're undeniably coming to the end of Assassin's Creed Valhalla's unnaturally long lifetime – for a game in Ubisoft's action-RPG series, anyway. However, that doesn't mean Assassin's Creed Valhalla isn't going out with a bang. Alongside the new Shared History questline and Eivor's Last Chapters, it looks like armour sets inspired by Bungie's Destiny 2 and Capcom's Monster Hunter series are coming to Assassin's Creed Valhalla.
Veteran Assassin's Creed Valhalla data miner 'MAK Moderator' has revealed, in what is touted as their last Assassin's Creed Valhalla showcase video, that armour sets based on Destiny 2's Lord Shaxx and Saint-14, and Monster Hunter's fearsome Odogaron have been added to the game's files in the latest title update. If you thought that Assassin's Creed Valhalla Iron Man armour leak was wild, you haven't seen anything yet.
As you can see for yourself below, the armour sets available aren't quite like-for-like when it comes to the armour worn by Lord Shaxx and Saint-14 in Bungie's looter shooter. However, it's very clearly armour inspired by their appearances and could just be the first in-game collaboration for the Viking-focused game. Ubisoft has collaborated with clothing brands, writers and musicians, and even itself (if you count the Crossover Stories questline) when it comes to Assassin's Creed Valhalla, but never another game.
It's also worth pointing out that, as you can see for yourself below, the Odogaron armour set is much more an artistic impression inspired by the draconic creature in the Monster Hunter series – as opposed to a more direct attempt at recreating the appearance in-game. Does this cement Assassin's Creed Valhalla as one of the best Xbox Series X games and best PS5 games out there right now? You can be the judge of that, but it should be considered on the sheer amount of content alone.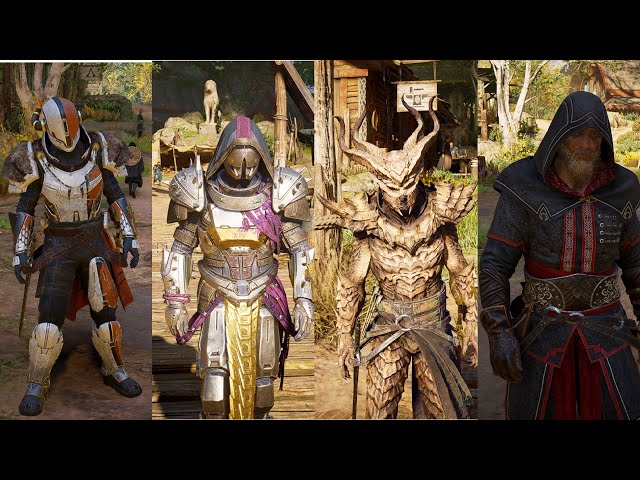 At the moment, we don't know how much these armour sets will cost in the game's Helix Store – that information hasn't been provided. However, we can imagine that they will be very-much in-line with what we have seen from Assassin's Creed Valhalla throughout it's lifetime.
On Reddit, user 'LostInStatic' has suggested that this Destiny 2 and Monster Hunter collaboration could mean that Assassin's Creed collaborations are coming to both Destiny 2 and the latest Monster Hunter game: Rise. While there's no confirmation of either instance being true, Ubisoft isn't a stranger to weird and wonderful Assassin's Creed collaborations – Fall Guys and Brawlhalla are prime examples of this. So, we could very well see an announcement made in the future. It's worth keeping an eye out.
While we wait for more information on that, though, why not check out the latest on the Assassin's Creed Mirage release date right here – or our speculation on the Assassin's Creed Infinity release date here. There's a lot to look forward to when it comes to this franchise – we just hope things are a little more streamlined than Valhalla going forward.