We all love to flex our Apex Legends dubs on our mates, but why not do it with some style? Apex Legends Season 16 can't get here quicker, as we look forward to collecting an array of new cosmetics via the Battle Pass. Marvel movie fans will want to get a piece of the action too. Apex Season 16 leaks have revealed a stunning Captain Marvel-inspired skin, but its inclusion feed into a bigger issue with the game.
Can the Apex Legends Season 16 release date arrive, please? Yeah, we're just as keen to get rolling as you, but this Apex Legends Season 16 leak has our attention first. Due to drop in the upcoming season, leaker 'Senos' shows off this vibrant cosmetic for Bangalore – which bears a striking resemblance to Brie Larson's depiction of Captain Marvel in the MCU.
Sporting the hero's face mask and mohawk, this blue get-up for Bangalore appears to pay tribute to Captain Marvel's Nova Corps outfit. For those out of the loop with Marvel's ongoing adventures, the Nova Corps are intergalactic peacekeepers. However, Apex Legends players will be quick to note that this new skin can be classified as a recolour of the skin featured within the Bangalore Edition of the game.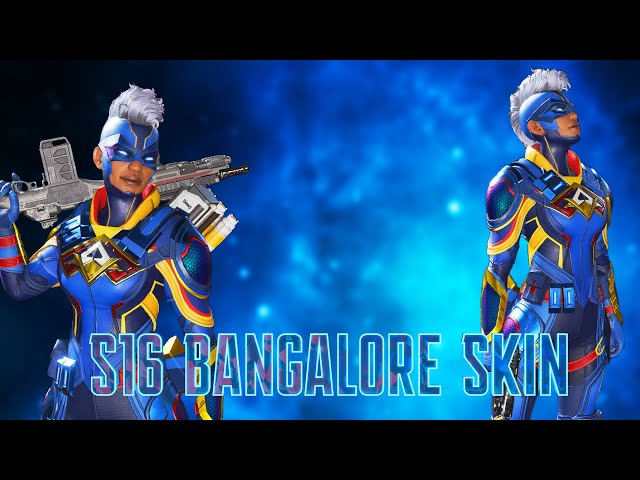 Members of the Apex Legends Reddit community are divided on the skin, as recolours continue to be prominent in the game. "It's just recolour after recolour," says Apex player 'Neversoft4long'. Another frustrated Redditor shares the sentiment: "New recolour. Pick one."
While others like 'Rerun15' exclaim "Oh boy! Another recolour!" too, many players are welcoming Bangalore's new threads with open arms. Redditor 'Hevens-assassin' adds that "this looks awesome. I have the OG red one, but the blue looks way better. One of the more underrated skins for sure." Conversely, 'theworldsomega' says "it screams superhero much more than the original."
Recolours in Apex Legends and Modern Warfare 2 are becoming commonplace, offering up slightly altered versions of familiar legends and operators respectively. Both franchises have dabbled with licensed IP bundles, featuring Predator and Die Hard cosmetics. However, neither game has yet to compete with Fortnite when it comes to skins.
Perhaps Apex Legends Season 16 will bring us some rejuvenated bundles. Until then, the game's recent hardcore mode is a sniper fest and it is tasty. Elsewhere, vital SBMM changes are in the works.