We know the Sun Squad Collection Event is just kicking off, but a recent Apex Legends datamine is teasing this battle royale's players with what's to come in the next Collection Event – and it's great news for Caustic mains. Yes, that's right; it looks like we're finally going to have a Caustic prestige skin release date to talk about – and it's about time too, right?
If Apex Legends content creator and reliable leaker 'SenosApex' is to be believed (and they're rarely wrong), we could be seeing another Apex Legends Collection Event – which presents players with the Caustic prestige skin – start in-game just a week after the conclusion of the upcoming Sun Squad event.
So, that means, if nothing changes, the Apex Legends Caustic Prestige skin release date is April 18. We know we said this Apex Legends update is what would make Prestige skins worth unlocking, but we still can't help but get a little excited about the prospect of seeing another mythic-rarity skin in this battle royale shooter.
As you can see for yourself below, SenosApex has shared a graphic detailing the start and end date for the upcoming "Veiled [Collection Event]" alongside information about what players can expect to see hit the in-game store. The mythic-rarity Caustic Prestige skin leads the line, followed by legendary-rarity cosmetics for Gibraltar, Octane, Rampart, and Seer.
Then, there should be a selection of other epic-rarity cosmetics for a handful of legends and weapons – just like usual. The ALT text of this image does reiterate that the information can change at any time – which isn't exactly what ALT text is used for, but it's a sentiment worth remembering all the same.
If you're wondering what this mythic Caustic skin is actually going to look like, Apex Legends content creator Thordan Smash has shared some imagery alongside information about what to expect. However, the imagery here isn't going to be exactly what we get – the new "Veiled [Collection Event]" has been largely veiled in mystery, so to speak.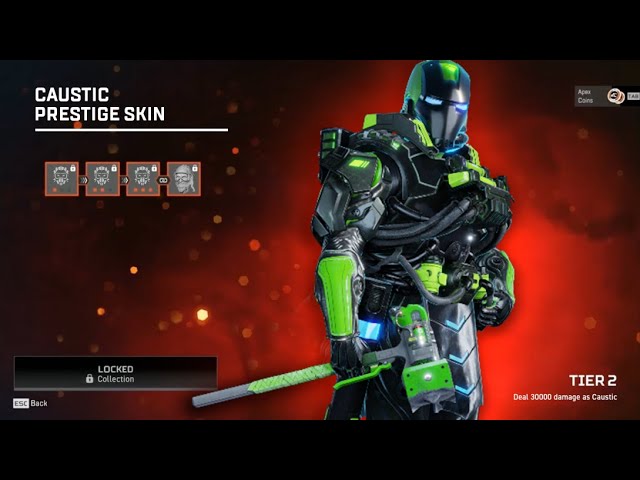 Thordan does go into quite a bit of detail, though, and it all lines up with the recreation they're pushing. So, while we don't know exactly what to expect, it's certainly something to be excited about. We might find out more when the Apex Legends Sun Squad Collection Event start time rolls around and there's another title update.
However, we don't mind waiting a little longer for more information if we have to. Respawn Entertainment's revamped Apex Legends classes have pushed Caustic into the limelight when it comes to his unique class perks and we're certainly glad he's getting more exciting content for players to unlock.
The only problem is that it's going to set you back a fair bit, just like other heirloom items and mythic-rarity Prestige skins and, sadly, we don't think that's going to change anytime soon. Still, if you're interested, you can read up on the latest Apex Legends patch notes and refresh yourself on the Apex Legends ranks ahead of the next announcement here.